Advent is the Church's way of observing and remembering, of marking the truth we believe that God came to be with us once, and God is still with us, and God is coming again to set all things right. This year we were guided by the Carmelite themes of waiting, accepting, journeying, and birthing.
Today's final meditation is a bit shorter: after all, it's Christmas Eve and that Muppet Christmas Carol isn't going to watch itself.

John 1: 1-5, 9-13
The Word was first,
the Word present to God,
God present to the Word.
The Word was God,
in readiness for God from day one.
Everything was created through him;
nothing—not one thing!—
came into being without him.
What came into existence was Life,
and the Life was Light to live by.
The Life-Light blazed out of the darkness;
the darkness couldn't put it out.
The Life-Light was the real thing:
Every person entering Life
he brings into Light.
He was in the world,
the world was there through him,
and yet the world didn't even notice.
He came to his own people,
but they didn't want him.
But whoever did want him,
who believed he was who he claimed
and would do what he said,
He made to be their true selves,
their child-of-God selves.
These are the God-begotten,
not blood-begotten,
not flesh-begotten,
not sex-begotten.
The Word became flesh and blood,
and moved into the neighborhood.
We saw the glory with our own eyes,
the one-of-a-kind glory,
like Father, like Son,
Generous inside and out,
true from start to finish.
---
Isaiah 9: 2-7
The people who walk in darkness
will see a great light.
For those who live in a land of deep darkness,
a light will shine.
You will enlarge the nation of Israel,
and its people will rejoice.
They will rejoice before you
as people rejoice at the harvest
and like warriors dividing the plunder.
For you will break the yoke of their slavery
and lift the heavy burden from their shoulders.
You will break the oppressor's rod,
just as you did when you destroyed the army of Midian.
The boots of the warrior
and the uniforms bloodstained by war
will all be burned.
They will be fuel for the fire.
For a child is born to us,
a son is given to us.
The government will rest on his shoulders.
And he will be called:
Wonderful Counsellor, Mighty God,
Everlasting Father, Prince of Peace.
His government and its peace
will never end.
He will rule with fairness and justice from the throne of his ancestor David
for all eternity.
The passionate commitment of the Lord of Heaven's Armies
will make this happen!
---
Christmas Eve Meditation
I know the more enlightened ones think I should probably be over Jesus by now but I still find myself sitting at his feet, criss-cross applesauce, unable to get over the Good News that God-is-with-us. (I don't think I can graduate from Jesus until I've mastered what he came to teach us and I still have so far to go with the whole "love your enemies" thing alone that I figure I'm okay to stay in his shadow and shelter.)
Almost all of our theology - and so, therefore, the way we live our lives - tracks back to what we believe about the nature and character of God. So settle in your bones this truth: Jesus is the exact representation of God. He came to reveal God to us, to show us all the ways that we have misrepresented and misunderstood God. And what did we learn from our Jesus? We are loved and we are redeemed. We are no longer servants but friends.
A few years ago we gathered our children around the candles on Christmas Eve and asked the tinies to explain the candles back to us. (With our kids, we have always walked them through Advent with the traditional themes of Hope, Peace, Joy, and Love for the candles.)
Joseph said that we light the Hope candle because Jesus is our hope, we hoped for Jesus then and now we're hoping for Jesus to come again.
Evelynn said that we light the Peace candle because Jesus makes peace and gives peace and is peace. Hearing those words in her childish voice brought tears to my eyes as I'd been so haunted by the refugee crisis that year: we are still yearning for peace.
Anne said that we light the Joy candle because Jesus is our joy and gives us joy and we're all so happy he came to us once and he will come again to fix everything.
And then we asked the little cousins to light the Love candle for Maggie who was brand new that year and tell us why it's called Love and they both giggled about how Jesus brings Love to the whole world because God is love.
We let the tinies read the Bible verses and I looked down the table at my father, his once-curly red hair now a close-cropped white, holding the Bible open for my son, listening to Joe read about the love of God towards us all.
My parents were very young when they had me and my sister so I remember when they were in their twenties and then in their thirties when they began to follow Jesus. I was a kid about the age of my own tinies then; they reoriented their entire lives and our family story on Jesus. He changed everything in them and for them. He brought that hope, that joy, that peace, that love to their lives from the inside-out and I walk in the legacy of it.
I always feel very tender-hearted towards the first-generation believers, the ones who change the family narrative because it isn't easy. It's been more than thirty years since Jesus turned everything right-side-up for my folks and I felt the weight of that choice at the table that night, watching this little generation all perched around my kitchen table by the light of candles in the darkness, telling us grown-ups all the things we already knew about Jesus.
Jesus was everything to us in those days and yet somehow I lost touch with him as I grew up. I think I confused Jesus with church or with Christians or with the Bible or some boundary markers to figure out who was "in" and who was "out." Rediscovering the better-than-I-even-hoped Jesus later in my adulthood meant another reorientation for me, too: Jesus turned my life right-side-up, too:
"Jesus. His name felt like every question and every answer. There was a strain of something like unearthly music to His name, and part of me still believes that my desire to be like Jesus was the Spirit's call – deep calling unto deep, as the psalmist wrote. My broken heart – cynical, jaded, frustrated, angry, wounded – somehow exhaled at the very mention of his name." (That's from my second book, Out of Sorts)
I know that everyone experiences Jesus differently or has a different story of their encounters with Jesus – I have dozens myself.
That night, gathered around the table with the two people who first introduced me to Jesus and then seeing my own children proclaim the Gospel to us all, declaring that Jesus was hope and joy and peace and love, I felt like laying down on the floor and crying because Jesus is as good as we ever hoped and it's all true and everything was rescued on that night in Bethlehem and it will all be restored fully someday soon.
Jesus is even better than we could have imagined as we waited, accepted, journeyed, and birthed. He is worth it because redemption is here.
I used to think that this Christmas Eve moment for Advent was like the final stroke of midnight before New Year's Eve turned into the New Day: a shout, a celebration, pour the champagne! Let the party begin! Countdown over! He's here, he's Emmanuel, the Incarnation has taken place among us! Turn up the music!
But as we have walked these Carmelite themes this year, it seems to me that the moment when God breaks through time and space will be more like waiting, accepting, journeying, and birthing all over again. That pain and labour and a sifting, grief and loss and joy and strength, failure and victory, all braided together.
Because I remember how the moment of birth was always one of complete relief and release and joy, yes absolutely, but instead of popping champagne corks or bursting into laughter, I cried from the core of myself – like some ancient writer said, I lifted up my voice and I wept, because she was finally here and we were alive. I felt held by the God-with-us; it was the most human and most sacred thing I'd ever done in my life. It was a glimpse of Incarnation.
This Christmas Eve, we will light the Christ Candle, the white candle right in the middle of the wreath of our hopes, and we will read the Scriptures here, and we'll talk about Jesus. Then we'll let those candles burn right down because the promises have been fulfilled, Jesus Christ is born, and He is all the good news we could ever dream of hearing.
Crack open your alabaster jars and spill all the expensive perfume, fling yourself down and grab the hem of his garment, sit on the beach after you've failed and when Jesus says, do you love me? we can all say, you know all things Jesus, you know I love you.
The light – the hope, the joy, the peace, the love – is among us now. Good news for all of us, the good news of the prophets and the poor: God is at work setting all things right.
Life, life, life, more abundant.
Come, thou long expected Jesus. We are waiting still.
---
John 3:34-36
"The One that God sent speaks God's words. And don't think he rations out the Spirit in bits and pieces. The Father loves the Son extravagantly. He turned everything over to him so he could give it away—a lavish distribution of gifts. That is why whoever accepts and trusts the Son gets in on everything, life complete and forever! And that is also why the person who avoids and distrusts the Son is in the dark and doesn't see life. All he experiences of God is darkness, and an angry darkness at that."
John 15: 9-15
"I've loved you the way my Father has loved me. Make yourselves at home in my love. If you keep my commands, you'll remain intimately at home in my love. That's what I've done—kept my Father's commands and made myself at home in his love. I've told you these things for a purpose: that my joy might be your joy, and your joy wholly mature. This is my command: Love one another the way I loved you. This is the very best way to love. Put your life on the line for your friends. You are my friends when you do the things I command you. I'm no longer calling you servants because servants don't understand what their master is thinking and planning. No, I've named you friends because I've let you in on everything I've heard from the Father.
---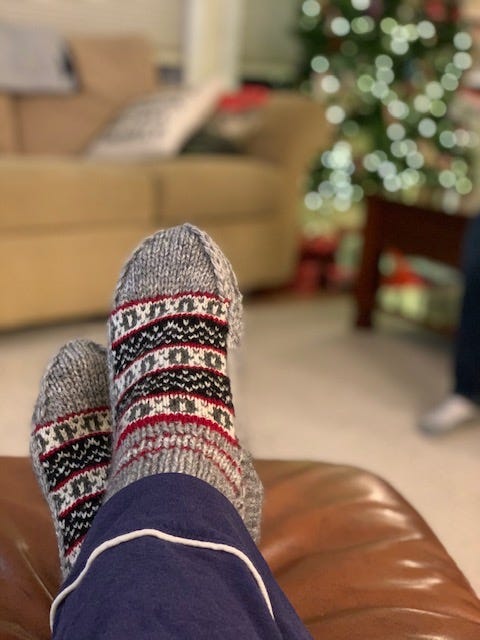 Dear friends,
Thanks for walking this Advent with me. I know this was a different series of writing than I've done before with themes we don't usually explore at Christmastime, and I've deeply appreciated your thoughtful responses.
We are settling in for Christmas Eve right now at my place. My out-of-office is turned on. *praise hands emoji* The afore-mentioned Muppet Christmas Carol is already on. I'm headed over to bake cookies with my mum and the kids in just a minute. We'll be spending time with just my folks and it will be a quieter Christmas (well as quiet as a household with four kids ranging in age from teenager to preschooler can be…) which suits me fine this year.
For me, Christmas Eve is more beloved than the day itself. The candlelight service at church, the simple meal as a family, the Christmas Eve jammies, the Advent candle wax dripping steadily. I look forward to the moment at midnight tonight when the neighbourhood is quiet, my children are sleeping, and the Christmas tree lights are glowing in the darkness. It's my moment to read things like what you have here and to simply sit with Jesus for a while. Tomorrow will be chaos and I'll (mostly) enjoy that, too.
If you're looking for something to read tonight and wanted to revisit this Advent series for paid subscribers, here are the links:
I pray that whatever your Christmas brings to you that you will be one who somehow brings the joy, peace, hope, and love you have experienced to those around you. May the seeds you sow today and tomorrow reap a harvest of your best hopes.
Merry Christmas at last.
I'm sending you all my love and prayers in these words to you.
May the light and love find us right where we are tonight.
---
And in case you missed it:
A subscription to Field Notes may be a wonderful Christmas gift:
If you were forwarded Field Notes, you can subscribe now and never miss an email.
P.S. My latest book Miracles and Other Reasonable Things might be the companion you need for these final days of the year.