Hi friends,
Last week, I asked our paid subscribers to help me choose our next special series for Holy Week and they showed UP with the opinions. (I love us.)
But….
We literally have a tie and it feels aggressively on-brand for our community.
We're exactly split between doing:
A journey through the "I Am" statements of Jesus OR

An utterly ridiculous and borderline blasphemous Schitt's Creek devotional
See? That's us. You see why I love us.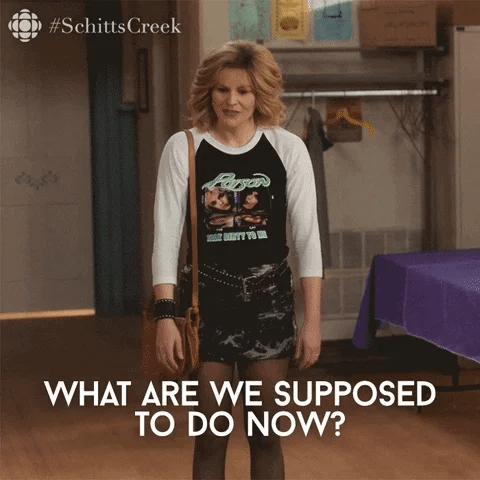 As much as I would love to deep dive into what David Rose and his knits teach us about God, I spent some time thinking it over and the truth is that I can't imagine spending Maundy Thursday with Roland Schitt and Moira Rose. Not right now, not with a global pandemic on.
So I'm going to choose the first option for our Holy Week series on the condition that I make you a promise to follow up very soon with a ridiculous, silly Schitt's Creek devotional or two just for us. Deal?
This is mainly because, like so many of us, I feel sad and anxious about what's going in the world. The sea feels uncertain, there has been a lot of loss and grief around us and in us, and these statements have always been anchors for me. I need the reminders.
If it doesn't sound too weird or manipulative, I feel a bit, well, called towards this right now. I hope these statements and my reflections on them can serve as an anchor for you as well while the storm rages around us. Right now we need to be reminded that he is "I Am."
I hope you can join us for "I AM": A Field Notes Holy Week.
I'm already at work writing these brand-new reflections and I am hopeful they will refresh you and reorient all of us towards the abundant life of Jesus, a life of peace-making, light-bringing, way-making, and so much goodness.
Here's how it works.
The Holy Week series is for paid subscribers to Field Notes.
Every morning during Holy Week, those folks will receive an email from me with a selection of scripture, a short (well, "short" is relative….short for me) original reflection on that passage, a prayer, and an invitation to a small practice to embody this.
The first email will come on Palm Sunday (this Sunday, April 5) and the last will be on Easter Sunday (April 12).
We'll take a good look at the times when Jesus referred to himself with "I am" statements such as "I am the light of the world" or "I am the way, the truth, and the life" in the New Testament with fresh eyes, engaged minds, and open hearts.
If you're already a paid subscriber, you're already all signed up. Well done, you. If you'd like to gift a subscription to a friend, you can do that.
If you're not yet a paid subscriber, here's the info:
A Field notes monthly subscription is just $5 CAD a month (which works out to just over $3 USD) and this include not only this series but all content that is behind-the-paywall including our Book Club, past series like our Advent one, and the weekly posts for subscribers only. The whole year is just $40 CAD (which is about $28 USD). We have a lot of fun behind the paywall and there is already a treasure trove of content back there waiting for you to catch-up on.
ONE IMPORTANT NOTE: I don't want anyone to be left out due to money concerns so if you genuinely can't afford the monthly subscription right now, please just email my assistant Robin at assistant@sarahbessey.com and she'll hook you up with six-months free. I promise, it is genuinely my pleasure and I'm just grateful when people put their hands up. We got you.
This content is behind the paywall because, well, this girl's four kids gotta eat and this is my actual-factual job, but that doesn't mean we don't look after each other around here.
Thanks for supporting my work and ministry. These are unusual days and it is genuinely my joy and honour to serve you well in them. It is my prayer that this Holy Week brings you to Easter on the path of Jesus.
Alongside you,
S.
---
And in case you missed it: