My Fave Parenting Books + What I'm Reading Right Now
Field Notes Book Corner for July with reviews, recommendations, and Kindle deals
Hi friends:
It's time for one of our favourite chats of the month: Book Corner! This is the monthly email when I share what I'm reading lately including my favourite book of the month, hunt down the best Kindle deals for you, and then you get to share what you're reading these days, too.
This month, I've added a new feature to the email: Sarah's Faves. As nice as it is to simply share what I'm reading in the moment, I am often asked for specific book recommendations on particular topics. So this will be my way of recommending a few faves on a particular topic every month.
This month, I'm sharing my personal faves for raising kids into a life of faith since that is one of the most frequent emails I get. If you have a request like Fave Cookbooks or Fave Books for Jesus Feminists or Fave Books for whatever, just let me know in the comments.
Oh, and I don't know if you're on Instagram, but I posted a little picture of our Rory snoring in my reading chair:
If there is such a thing as reincarnation, consider this my formal request to be a writer's office cat. What a life.
And the messages led into a little tour of my office bookshelves a few days ago which devolved into an "Ask My Anything" session in my Stories. If you want to read through those, go to my profile here and click on AMA Answers for the Story which include everything from how the books are organized to the Secret Cupboard, what is a rumpus room exactly to the theology of "y'all." (Trust me, it's a thing.)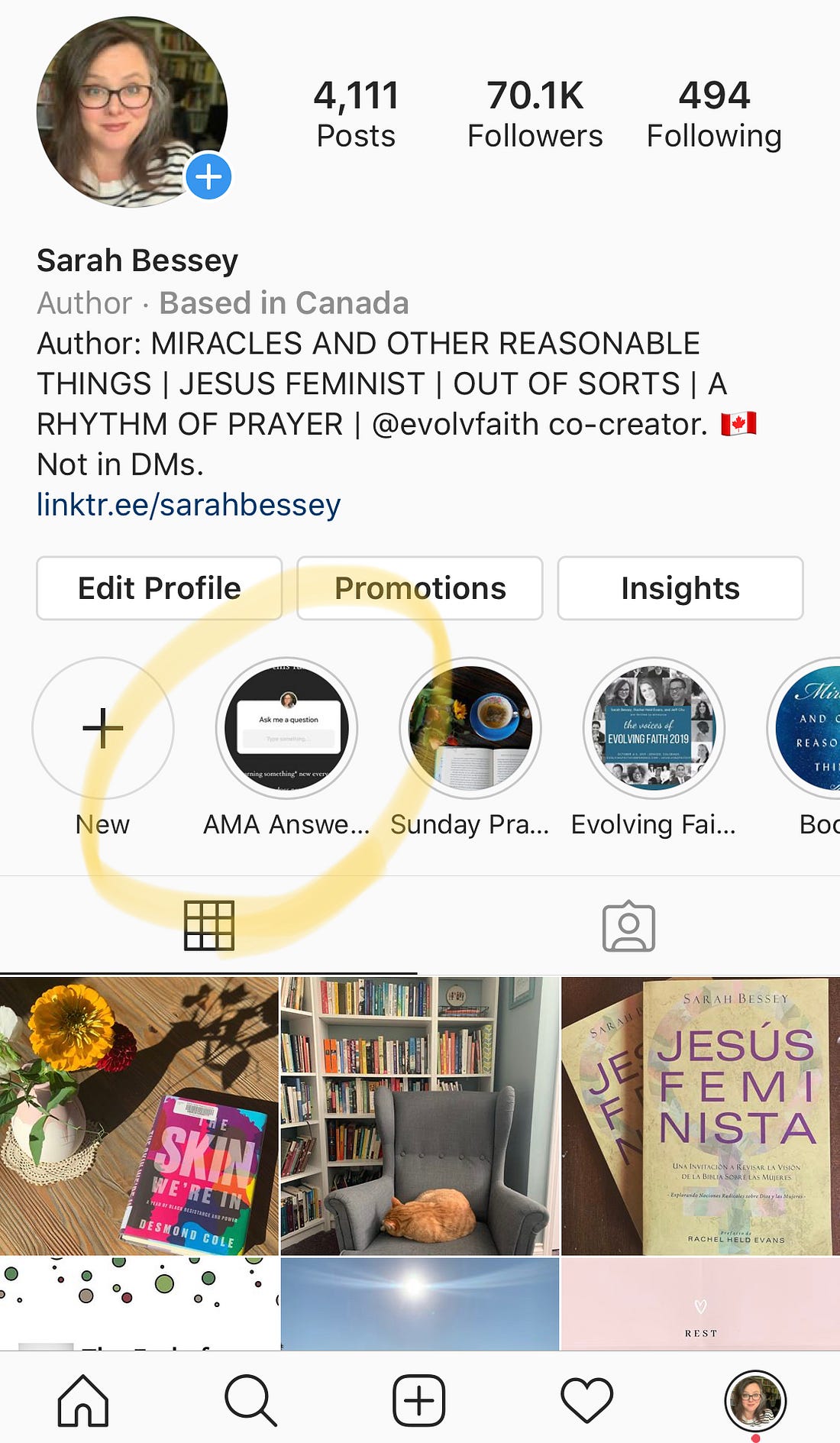 Okay, back to books!
---
My Favourite Recent Read
The Skin We're In: A Year of Black Resistance and Power by Desmond Cole - 5+ stars. I often encounter the attitude among my fellow Canadians that "racism isn't as bad here in Canada, I mean it's not like we're the States." If you have ever said or thought something like that, I strongly encourage you to read this one. Told through the stories of one year, this book upends any Canadian smugness about being post-racial. With urgency and meticulous storytelling - I seriously did not put it down until I had read the entire thing - he connects history to present day and pulls back the complacent curtain over police brutality, carding, colonization, white supremacy, and so many other matters of justice for Black Canadians and Indigenous people. This will be in my top books for the year.
The books I finished recently
The Lazy Genius Way: Embrace What Matters, Ditch What Doesn't, and Get Stuff Done by Kendra Adachie - 5 stars. Reading this approachable, practical book will feel like spending an afternoon with a wise and cool big sister who is helping you get your life together. Without an ounce of shame or guilt, Kendra gives you permission to care about the things that really matter to you and to be lazy about the things that don't. I only wish I could have read this book twenty years ago. If you're looking to move from survival mode to thriving mode, this is a good start.
When We Were Vikings by Andrew David MacDonald - 4 stars. If you liked Silver Linings Playbook or The Curious Incident of the Dog in the Nighttime, you'll dig this one. I picked it up at the library because it had the tell-tale maple leaf sticker that indicates a Canadian author and I'm horribly biased (and hopeful). It's the story of Zelda who is a highly functional adult with FAS (Fetal Alcohol Syndrome) and her brother/caregiver, Gert. It's colourful (seriously so! much! language!), insightful, and endearing.
Ladder to the Light: An Indigenous Elder's Meditations on Hope and Courage by Steven Charleston - 5 stars. This one won't be out until early 2021 and so this is a bit of a sneak peek I suppose as this book came to me for an endorsement. It's a prophetic guide to the life of faith. He masterfully weaves together the wisdom of Indigenous theology with the voice of the Spirit. Charleston illuminates the way the Spirit brings us into its loving presence, transforming us into a people equipped to do the work of love for ourselves, our communities, and our world.
Always a Guest: Speaking of Faith Far From Home by Barbara Brown Taylor - 5 stars. Another pre-order opportunity as it won't be out until October of this year (or just ask your library to bring it in for you). You all know my deep and irrational love for BBT. #Fangirl So I am incapable of being chill about this book or anything Barbara Brown Taylor writes. She is one of my favourite writers and this collection of her sermons will show you why she is also one of our generation's greatest preachers. On themes from anxiety to beauty, resurrection to doubt, wisdom, and telling the truth, she does what all great preachers do: proclaims the Gospel. Each sermon is a wide and good feast that will feed us for years to come."
Indian-ish: Recipes and Antics from a Modern American Family by Priya Krishna - 4 stars. I've loved Priya Krishna's food writing and presence for a while now so this was a wonderful grab at the library. I absolutely loved the glimpse into her family and particularly her mother's life. The book makes clear that Indian food is everyday food and has an accessibility for new-to-it cooks. It's clear that this is just as much her mother's book as it is hers and the recipes I did make were wonderful. (P.S. if you haven't yet read her ode to the Texas grocery store HEB, well. You are in for a treat. #LongLiveHEB)
Joy at Work: Organizing Your Professional Life by Marie Kondo and Scott Sonenshein - 3.5 stars. I know that "cluttered creative" is the stereotype for writers but I'm actually rather organized. I also like to read books about how people work and learn tips for moving forward. All that to say, this was fine. Nothing revolutionary or exciting; a lot of it seemed like common sense. Tidying apparently can change your entire life, who knew?
Everything is Figureoutable by Marie Forleo - 3.5 stars. This seems to be the score of the month, maybe I'm grouchy. This was a lovely and inspiring book by someone I do admire from afar but very self-help-y (which doesn't ring the same for me anymore - remind me to write about this through the chronic pain lens sometime…), pull yourself up by the bootstraps sort of stuff. Which doesn't mean there isn't something good to learn but I found myself a bit tired out by the end.
Wow, No Thank You: Essays by Samantha Irby - 3.5 stars. This was clever and interesting but I can't see re-reading it. I think it's the type of essay-writing that I prefer in smaller doses. Although the essay on 911 did make me literally laugh out loud. It's not my typical fare but I'm glad I read it - she is particular and hilarious and scathing.
Murder Your Darlings: And Other Gentle Writing Advice from Aristotle to Zinsser by Roy Peter Clark - 3 stars. Like most writers, I love to read about writing but I found that I preferred the original source material to this distillation. It's fine but it wouldn't be the writing book I would recommend.
Best of Bridge Comfort Food: Recipes for Family and Friends by Emily Richards and Sylvia Kong - 5 stars. The non-Canadians among us may not yet be well-versed in the wonders of Best of Bridge cookbooks but even for the Canadians, this will be a treat. It's a very accessible family cook style with quick weeknight dinners as well as Saturday meals. The big shift is that it's become much more representative of Canada's diverse landscape for comfort food - so not just meatloaf or mashed potatoes but Slow Cooker Cuban Style Shredded Beef, Jerk Chicken and Ramen. I could see this being a kitchen staple for me.
I'd Give Anything by Maria de los Santos - 4 stars. I have grown to really love Maria de los Santos' novels and this didn't disappoint. It was a lovely way to spend a Saturday afternoon with complicated characters and a mystery hanging over a friend group. If you like Liane Moriarty but want a bit more heart and sympathy for the characters, you'll dig this.
Now, your turn - what did you finish this month that you loved? What is your favourite book of the month? Your take on any of the books I read?
---
Sarah's Faves: Raising Kids into a Life of Faith
Okay, let's talk about books for raising humans as Christians. These books are primarily related to the spiritual lives of kids as opposed to the wide open landscape of parenting in general. These books have served me well.
Belonging and Becoming: Becoming a Thriving Family Culture by Mark and Lisa Scandrette - This incredibly practical book is probably my most recommended resource so far. Mark and Lisa (whom I have met and really like) are good guides because they have a real focus on building your vision and imagination for what your family could be in the world. They are honest about both their joys and their struggles, the culture we live in and our own insecurities. And rather than simply "here's how to raise kids," as if it's a formula, they offer us a path of creativity, intentionality, and engaged with God's larger story, too. If you're looking for more soulful intentionality in your parenting, this is the one.
Bless This Mess: A Modern Guide to Faith and Parenting in a Chaotic World by Rev. Molly Baskette and Ellen O'Donnell, PhD- I've lost count of the number of parents who ask for resources about raising kids in a more progressive faith but this ones truly stands out among a handful of my faves. The authors marry an approach of both spirituality (Molly is a minister) and psychology (Ellen is a child psychologist and professor at Harvard Medical School) all rooted in progressive values. This is a very practical book and helpful not just for parents of young kids but those of us with kids in middle school, high school, and beyond. They talk about social justice, money, God, ethics, bullying, disabilities, sexuality, boundaries, and bodies while also featuring real-life examples and first-person stories. It's a keeper for me. (I first mentioned this one back in May.)
Grace-Based Parenting: Set Your Family Free by Dr. Tim Kimmel - This was one of the first books I read that ran counter to most Christian parenting books. Most books that were recommended to me when our kids were known as The Tinies did NOT line up with the God that I knew and loved, let alone the type of parent that I wanted to become, nor the type of humans I wanted to raise. This was the first book that showed me how to major on the majors, to avoid the checklists and rules, to release fear-based decisions, and overall, to model and embrace grace in our home. I can't tell you how much hope it gave me. (This is one that is more conservative than I am.)
Parenting Forward: How to Raise Children with Justice, Mercy, and Kindness by Cindy Wang Brandt. Many of you may know Cindy's work through her thriving Facebook group Raising Children Un-Fundamentalist where she hosts wide-ranging conversations on that topic. Most Christian parenting books are very inward-focused (our-four-no-more!) but Cindy's approach refocuses the priority on loving others, dismantling our own biases, nurture their flourishing, and as she says, raising children with justice for justice. Rachel Held Evans wrote the Foreword and said this one is "a robust and accessible guide to breaking the cycle of authoritarian, fear-based parenting in favour of a paradigm that pursues and celebrates equality, autonomy, and fully embodied health and wholeness."
The 6 Needs of Every Child: Empowering Parents and Kids through the Science of Connection by Jeffrey Olrick Ph.D. and Amy Olrick. This book is equal parts research, neuroscience, and experience. Less of a "formula book" and more of a compass with ways to help your kid thrive, it covers how to connect well and securely, and even how to discern your unique style of parenting. The thing that set it apart for me is that it sets us free from the idea of "getting it right" in order to guarantee particular outcomes and instead teaches us to love the kid we have in our life while develop resilience for this life. Plus it's very compassionate in approach - which isn't a surprise. I went out for lunch with Amy once and she is exactly how she appears in the pages here. (Not pictured because this one is on my Kindle.)
Faithful Families: Creating Sacred Moments at Home by Traci Smith. This book is inclusive for anyone involved in the spiritual life of a child from parents to aunties and educators. Traci is a Presbyterian pastor and a mom of three who has laid out a practical path for creating and sharing meaningful spiritual experiences with kids - without much prep or fanfare. So many DIY ideas for overlapping the ordinary and the sacred in your regular days like ceremonies, spiritual practices, and traditions. (Note: she also has a small prayer book if you're looking for easy-to-memorize progressive and inclusive prayers for little ones.)
Spirit-Led Parenting: From Fear to Freedom in Baby's First Year by Megan Tietz and Laura Oyer. For those with brand new babies, I always tuck a copy into the baby gift. It's not a widely known book at all but in a time when most new parents are highly susceptible to fear and control-based parenting methods or feeling stressed out about sleep schedules (ha!) and "getting it right," this book is such a breath of fresh air.
P.S. Ages ago, I wrote a little ebook called My Practices of Mothering. I think I wrote it when my first three kids were 5, 3, and 1 after a blog series on the topic. It's about the things I practically did to enjoy mothering in those tiring overwhelming days. (Seriously I think about that now - three kids in four years! - and need a nap all over again.) I haven't reread it in a long while but if you were looking for it, it's here for just $2.99 still.
Feel free to share your own favourites in the comments!
---
A Few Kindle Deals for You
*Prices were accurate when I prepared but may have changed. These are only the deals I've either read myself or know a bit about and so feel pretty good recommending to you.
Becoming Mrs. Lewis: The Improbable Love Story of Joy Davidman and C. S. Lewis by Patti Callahan is $1.99
Hyperbole and a Half: Unfortunate Situations, Flawed Coping Mechanisms, Mayhem, and Other Things That Happened by Allie Brosh is $2.64
Bad Girls Throughout History: 100 Remarkable Women Who Changed the World by Ann Shen is $1.99
When Women Were Birds: Fifty-four Variations on Voice by Terry Tempest Williams is $2.62
Prairie Fires: The American Dreams of Laura Ingalls Wilder by Caroline Fraser is $1.99
The Day the Revolution Began: Reconsidering the Meaning of Jesus's Crucifixion by N.T. Wright is $3.38
Simply Tuesday: Small-Moment Living in a Fast-Moving World by Emily P. Freeman is 99 cents
---
Field Notes Book Club
The discussion portal for Native: Identity, Belonging, and Rediscovering God by Kaitlin Curtice is open and discussion questions are waiting for you there!
Bring your thoughts, comments, hot takes, responses to us. We're all there for the next couple of months and it will stay open so even if you haven't started the book yet, you can still participate whenever you like.
(Note: The Field Notes Book Club is for paid subscribers.)
---
I'll see you back here again this week with a community conversation for Wisdom from the Field (it's a good question this month, very timely) and next week will be The Good Things this month.
Reading past my bedtime,
S.
Find me on Instagram | Twitter | Facebook | My Website
Learn more about my books: Miracles and Other Reasonable Things | Out of Sorts: Making Peace with an Evolving Faith | Jesus Feminist | A Rhythm of Prayer (releases in September)
P.S. Just a reminder: I've removed the paywall from August's editions of Field Notes to in hopes of offering some goodness to the wider world in these days so this post is open to anyone with the link. But if you do want to subscribe, you would have access to the entire back catalogue of Field Notes including exclusive essays, special devotional series, the book club, and lots more.
And in case you missed these Field Notes: