On the days when I believe this...
I AM the Resurrection and the Life: A Field Notes Holy Week Series, Easter Sunday
Welcome to Easter Sunday, the last in our series of Holy Week reflections for Field Notes subscribers.
Today's reflection is public and available to everyone.
If you would prefer to listen to me read this one aloud, click here for an audio recording of the post.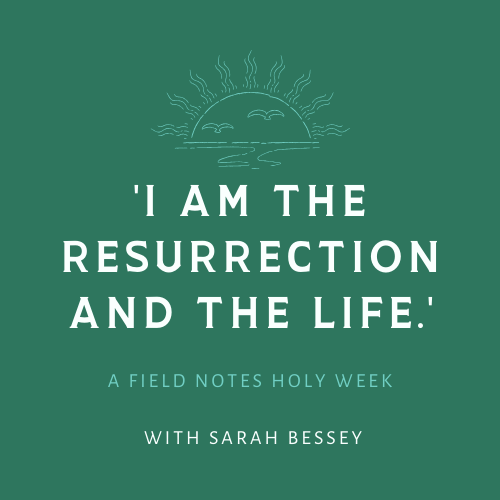 Reading
When Jesus finally got there, he found Lazarus already four days dead. Bethany was near Jerusalem, only a couple of miles away, and many of the Jews were visiting Martha and Mary, sympathizing with them over their brother. Martha heard Jesus was coming and went out to meet him. Mary remained in the house.
Martha said, "Master, if you'd been here, my brother wouldn't have died. Even now, I know that whatever you ask God he will give you."
Jesus said, "Your brother will be raised up."
Martha replied, "I know that he will be raised up in the resurrection at the end of time."
"You don't have to wait for the End. I am, right now, Resurrection and Life. The one who believes in me, even though he or she dies, will live. And everyone who lives believing in me does not ultimately die at all. Do you believe this?"
"Yes, Master. All along I have believed that you are the Messiah, the Son of God who comes into the world."
After saying this, she went to her sister Mary and whispered in her ear, "The Teacher is here and is asking for you."
The moment she heard that, she jumped up and ran out to him. Jesus had not yet entered the town but was still at the place where Martha had met him. When her sympathizing Jewish friends saw Mary run off, they followed her, thinking she was on her way to the tomb to weep there. Mary came to where Jesus was waiting and fell at his feet, saying, "Master, if only you had been here, my brother would not have died."
When Jesus saw her sobbing and the Jews with her sobbing, a deep anger welled up within him. He said, "Where did you put him?"
"Master, come and see," they said. Now Jesus wept.
The Jews said, "Look how deeply he loved him."
Others among them said, "Well, if he loved him so much, why didn't he do something to keep him from dying? After all, he opened the eyes of a blind man."
Then Jesus, the anger again welling up within him, arrived at the tomb. It was a simple cave in the hillside with a slab of stone laid against it. Jesus said, "Remove the stone."
The sister of the dead man, Martha, said, "Master, by this time there's a stench. He's been dead four days!"
Jesus looked her in the eye. "Didn't I tell you that if you believed, you would see the glory of God?"
Then, to the others, "Go ahead, take away the stone."
They removed the stone. Jesus raised his eyes to heaven and prayed, "Father, I'm grateful that you have listened to me. I know you always do listen, but on account of this crowd standing here I've spoken so that they might believe that you sent me."
Then he shouted, "Lazarus, come out!" And he came out, a cadaver, wrapped from head to toe, and with a kerchief over his face.
Jesus told them, "Unwrap him and let him loose." - John 11:17-44 (MSG)
---
Final Reflection
Typically when I talk about Easter, it's joyous and celebratory, a bright sunshine of a day with words to match. We would be gathered in churches or homes, we feast together, we sing loudly, we clap our hand and holler. There are processions and sunrise services and lilies on the altar. The flowers burst into bloom along with all of our hearts. After all of the quiet of Lent and the march towards Good Friday's horrors and death, we finally turn towards Eastertide's new life with anticipation: He is risen! He is risen indeed! The crowd cheers and embraces. Oh, death where is your victory? Where is your sting?
But today's Easter feels different, doesn't it?
Even the way we celebrate Easter is different. Only the mightiest of arrogant fools are gathered in churches right now. The rest of us are celebrating through screens and social distancing, alone or cloistered with our families only. People are afraid and anxious.
The shadow of death has fallen for many and those who grieve are unable to gather. This isn't how Easter is supposed to go.
Even before I knew about the global pandemic, I was dreading this Holy Week and Easter. I think that's why I knew I needed these past seven days with Jesus, leading to this Sunday - it's been nice to have you along for the journey.
That's because it was during Holy Week last year that my friend Rachel Held Evans took a very hard and scary turn away from life. The dates don't quite match up because the Church calendar is hard but the days of my heart are there right now because I was marking time by this rhythm. Before most of the public knew what was happening, we were already afraid. By the time the news broke on Good Friday, we were already in the deep dark.
I'll be honest with you: some part of me really believed last year that Easter Sunday might be our miracle day. That God would heal her and she would wake up, whole, herself. I think it's a stubborn bit of the old healing ministry influences of my formative years clinging to my soul. I couldn't seem to stop my brain from hoping, "Wouldn't it be just like God to raise her up out of that hospital bed on Easter Sunday?" even though I knew that thinking was dangerous to my soul and untrue of my theology. We started hashtags on Twitter and if sheer quantity of prayer let alone prayers of the righteous made the miracle happen, we would have ticked every box. And I held vigil. We prayed earnestly in every way I have ever been taught to pray for a miracle.
Easter came and went without a resurrection in the way I wanted it to come for Rachel. She died just a couple of weeks later during the season of Easter at just 37 years of age, leaving behind a grieving husband and their two tinies, a family, and all of us who love her. There are never-spoken, never-shared memories of these very days I'm holding like a broken harp in my hands still. This has been a hard grief. It felt wrong because it is wrong.
So this Easter Sunday, Christ has risen.
What about the rest of us?
Because the whole world is in the valley of the shadow of death still. It's hard to sing about Easter, about resurrection, about life when death does sting, when death does feel victorious. Easter is in the dark again for so much of the world.
In her powerful book Learning to Walk in the Dark, Barbara Brown Taylor writes, "As many years as I have been listening to Easter sermons, I have never heard anyone talk about that part. Resurrection is always announced with Easter lilies, the sound of trumpets, bright streaming light. But it did not happen that way. If it happened in a cave, it happened in complete silence, in absolute darkness, with the smell of damp stone and dug earth in the air. Sitting deep in the heart of Organ Cave, I let this sink in: new life starts in the dark. Whether it is a seed in the ground, a baby in the womb, or Jesus in the tomb, it starts in the dark."
Holy Week still feels dark even on this Easter Sunday, the biggest day in the Christian calendar. It is not that different than how God usually works, is it? It is in the dark that new life begins and began and is beginning. Still.
Full disclosure: I'm not immune to taking passages of scripture out of context and meaning for my own purposes and this is your fair warning that I'm about to do that very thing. My only excuse is that when the words of the Bible run through your memory, sometimes certain lines come back to you in odd moments even if they don't quite fit or belong (nobody tell Pete Enns on me). This is that. Last Eastertide as we mourned Rachel, Psalm 137 came to me and I am there again this year. It's an odd one because it is a song of exile and an imprecatory psalm. The Psalmist has recently returned from Babylon after years of exile from Israel. So it isn't mine to claim nor is it particularly relevant but there is one line in there that stayed with me from vs 1 and 4: "By the rivers of Babylon we sat down and wept…How can we sing the songs of the Lord while in a foreign land?"
After Rachel died, I wondered how to sing the songs of the Lord in this foreign land of her absence and broken hopes and our collective grief, in the sheer unfairness and senselessness and rage of it. I felt I was sitting by the waters of a foreign land and so I wept.
Over the years, I have managed to sing through car accidents and physical pain, through lost pregnancies and family tragedies, through surrendered vocation and lost income, through being exiled by our church family and other heartbreaks. But losing Rachel last year - seeing Dan lose his wife, her children lose their mother, her sister lose her best friend, grief on grief on grief - broke something and I'm only on the shore of their sea of sorrow.
This foreign land makes it hard to sing the old songs of resurrection. I can't sing them in the uncomplicated ways that I used to sing them anymore, I forget those words. I have other images in my mind than resurrections.
I find that I am thinking, "But what about the ones for whom that isn't true?" a lot.
What does the resurrection and the life mean when we are grieving, when we can't sing the songs in this foreign land?
This is my underlying question this Easter.
At first glance, maybe it feels odd to be with the story of Lazarus today. After all, Mary and Martha got the miracle we didn't. Jesus raised their brother up from the dead. That didn't happen for us, and it likely didn't happen for you and the one you loved, and it isn't happening all around the world as thousands of families find themselves in the foreign land of grief due to COVID-19.
But this is where we are today: standing outside of a tomb with Jesus as he weeps with us. Standing outside a tomb with a promise, today's anchor: I AM the resurrection and the life.
It's always been the resurrection that gets us Christians in trouble. Most of us insist upon it. It's not a secondary issue of our faith like whether or not you should eat shellfish or if babies should be baptized or what kind of carpet to put in the foyer or whatever nonsense split a million churches. The resurrection is the axis upon which our whole understanding of God's story turns.
I still believe everything will be made right somehow.
I have no idea what that means some (most) days but I believe in the core of myself that there will come a day when "He will wipe away every tear from their eyes. There will be no more death or mourning or crying or pain for the old order of things has passed away." (from Revelation 21:4 NIV)
We believe our lives are testimonies of that wild resurrection and even our sacrament of baptism is a mirroring of what we believe about the resurrection: with the descent into the water we mirror Christ's descent into death and with our rising up out of the water and into the world again, we mirror Christ's resurrection. From death to life, over and over. Paul wrote to the Romans, "That's what baptism into the life of Jesus means. When we are lowered into the water, we left the old country of sin behind; when we came up out of the water, we entered into the new country of grace - a new life in a new land!"
This country of grace is a homecoming for us, not an exile.
The last time I read John 20 which is the story of Mary Magdalene encountering the risen Christ, it was at Rachel's funeral. I nearly didn't make it through: I battled for every strangled word. The empty tomb and then Jesus appearing to Mary Magdalene in the garden and commissioning her to preach the resurrection back to the boys was one of our favourite stories. I have that story as an icon before me right this minute.
I last read that particular story of resurrection beside Rachel's casket in front of a church, topped with sunflowers.
Like most of us preachers, Rachel usually started a sermon with a passage of Scripture. But unlike the rest of us, prone to peddle certainties, after she read the Bible to the congregation, she used to say, "On the days when I believe this…" before she launched into her sermon. I loved this about her - it spoke of her humility, her honesty, her wry admission of her own doubts, her humour and refusal to take her self too seriously. Every time I heard her say it, there was an audible sigh of relief from the ones in the room. I wished I had the courage.
And so. Yes.
Jesus is the light of the world.
the bread of life.
the gate.
the Good Shepherd.
the way, the truth, and the life.
the true vine.
I AM who I am.
And Jesus is - still, now, always - the resurrection and the life.
And on the days when I believe this, it changes everything.
On the days when I believe this, I'm not afraid and I know we will all be free.
On the days when I believe this, I know that Jesus was resurrected and his beautiful, brown-skinned, scarred, and wounded body is alive.
On the days when I believe this, I am certain we will also be resurrected and death will not have the final word and all tears will be wiped away and there will be no more night, no more hunger, no more wounding, no more loss, no more good-byes.
On the days when I believe this, I believe death is a dawn and never the last word.
On the days when I believe this, I know the miracle is that God knows the dark and the sorrow just like we do.
On the days when I believe this, I believe that ongoing hope of resurrection changes how we engage in our lives as they stand right now as we love and know and walk with God who brings life out of death, order out of chaos, healing out of sickness, wholeness out of brokenness.
On the days I believe this, I know God is not finished with this Story yet.
But there are days when I don't believe it.
And on those days, I have this: God With Us, Emmanuel.
This Easter, it may be all some of us have. We can't quite get to resurrection and life yet but in that place of exile, we can rest alongside God With Us which is our country of grace for today.

God With Us in every hospital room, at every graveside, in every dark room after everyone else has gone home to their normal lives. God with the ones for whom the Good News is truly good news and those who aren't sure. God with everyone for whom the truth is maybe not yet true. God with every woman hunched over sewing masks and every person on a ventilator and every lonely ICU bed. God with every healthcare worker holding the hands of the dying in proxy for their families and every janitor cleaning up someone else's puke and every grocery store worker behind a plexiglass screen still showing up for work and every worker laid off and everyone laying way wondering how to pay their bills and every leader doing their best. God with everyone to numb or exhausted to feel a thing this day. God with every lonely one separated from those they love. God with every immigrant kid trapped in a detention centre and every refugee who is turned away at the last door and every gay kid being sent away to conversion therapy convinced that God hates them and every sex worker and every addict and every victim of abuse at the hands of religious leaders and every foster kid with a garbage bag full of their treasures and every protestor crying out in the streets that black lives matter and every murdered and missing indigenous woman and girl and every person experiencing homelessness and every unheard and uncelebrated and ignored imago dei, image of God, finding the truest reality of Love, abiding in thin places from the underside of life.
God with those still mourning, with the scared, with the sick, with the angry, with those who hold the great and terrible knowledge of the Presence of Love in our thin and weary places.
On the days when I believe this, it's enough.
On the days when I don't, it's still enough.
Christ is Risen.
And so we keep singing in our exile and in the country of grace.
---
Practice
Join me in singing, will you? Or share your song with us in your comments.
I have loved this one for a long time but this new 2019 version is so great.
I grew up in the charismatic/Pentecostal traditions and so I've got to have some Gospel music this morning, it is legally required. If you need me I'll be in the aisle, singing loud and waving my hands in the air. Grief sings Gospel, it's the rules.
And finally:
---
Benediction
(Note: I updated the benediction after recording the audio so this differs from the audio.)
May you be given the gift of believing today.
May you know God in the dark.
May you abide in the country of grace even while you are in exile.
May you know and experience God With Us.
May God wipe away every tear from your eye, may there be no more death or mourning or pain - someday.
May everything be made right, may the old order of things pass away.
Even if you are beginning the resurrection from the dark, may the light break through.
Jesus is the resurrection and the life,
and so may it be well with your soul.
---
This is the conclusion to a special one-week long series called "I AM: A Field Notes Holy Week."
All content is copyrighted by Sarah Bessey. To clarify, you are of course free to quote a snippet or to reference my work on social media. In fact, I'm grateful when you do - thank you! I just ask that you link back to the original post and don't share more than a paragraph or two. And please don't copy and repost an entire essay elsewhere.
Day One :: I AM the Light of the World - for subscribers
Day Two :: I AM the Bread of Life - for subscribers
Day Three :: I AM the Gate - for subscribers
Day Four :: I AM the Good Shepherd - for subscribers
Day Five :: I AM the Way, the Truth, and the Life. - for subscribers
Day Six :: I AM the True Vine. - for subscribers
Day Seven :: I AM who I AM. - for subscribers
Easter Sunday :: I AM the Resurrection and the Life - for everyone
---
Find me on Instagram | Twitter | Facebook
Learn more about my books: Miracles and Other Reasonable Things | Out of Sorts: Making Peace with an Evolving Faith | Jesus Feminist
And in case you missed it: