Our Christmas Gift Guide to Empower is here!
Meaningful, useful gifts that also do good in the world!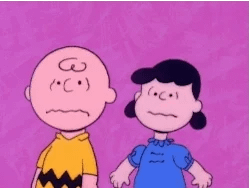 No big eastern syndicates around here, Lucy! This is the real deal.
Welcome, welcome to our Christmas Gift Guide to Empower! This is an annual gift guide/labour of love that not only features gorgeous and useful gifts for everyone on your list but ALSO does a tremendous amount of good in the world. Every single one of these shops empowers others and lifts up the oppressed, practices ethical business, inspires change, cooperates with the marginalized, or turns poverty to prosperity in some way.
There is a lot of mindless consumerism in the world right now. So rather than aimlessly cruising the mall trying to find a random gift to buy for that one person and lining the pockets of more soulless conglomerates, we'll step out of the system and spend our money intentionally and thoughtfully with an eye on empowerment!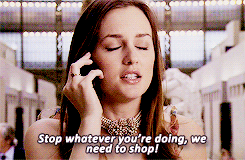 I love subverting the system a bit – we will not only bless one another with gorgeous gifts but we will do some good, strengthen, and bring hope to small business, entrepreneurs, and women all around the world. After all, the big box stores won't miss my money this year but for these shops our purchases can make a world of difference - both for the entrepreneurs and for the workers as well as our recipients.
And yes, you absolutely can and should forward this gift guide to every single friend and acquaintance. I know I will. #SorryNotSorry
Oh, don't forget: many of these shops also provided a special discount for you, my dear readers.

Paid subscribers will be having a special giveaway contest from these shops next week so watch your email for that.

I've tried to choose items for every budget as well as options for every sort of recipient.

Make sure you click the "Other Favourites" if my pick isn't necessarily your pick.

Almost every single shop here was mentioned or recommended by fellow readers so in a way this is a Field Notes sourced list from all of us. Thanks, team!
Now let's get shopping and sharing, eh? Let's do some good this Christmas with our spending.
P.S. I didn't take any compensation from a single one of these providers nor am I making any affiliate money from anything you purchase. 
---
Starfish Project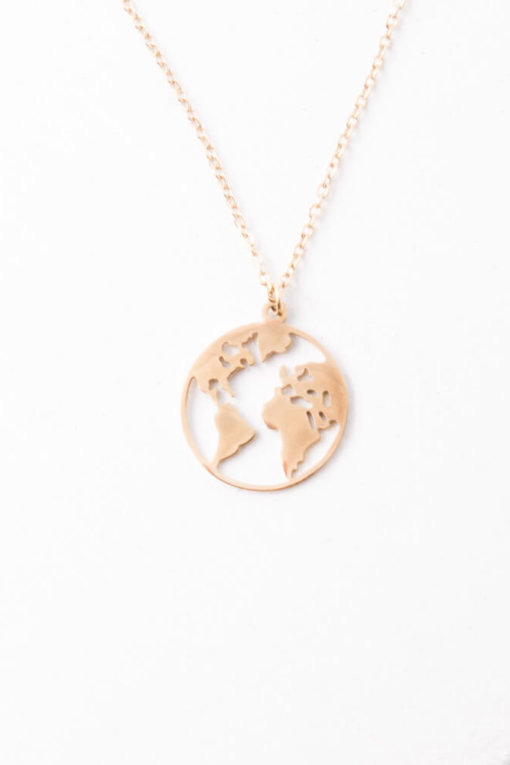 My Pick: World Pendant Necklace $38.99 USD
This beautiful necklace comes at my preferred length (16-18" length) and it is a good gift for the fellow bleeding hearts in your circle. It has a 14k gold plated stainless steel world map pendant on a 14k gold plated stainless steel chain. This particular necklace is equal to the cost of reaching out to 16 women in the red light district. Every purchase of the World Pendant Necklace means exploited women and girls can begin experiencing freedom at Starfish Project.
Other favourites: I'm a sucker for Starfish Projects style and have several of their pieces. My absolute faves are the Natalie Hexagon Stud Earrings and my "Act Justly, Love Mercy, Walk Humbly" necklace is almost always on when I'm preaching.
Special deals: 25% off their entire site with a few exclusions through the end of the year (exclude sale, Darling and Dressember items) with promo code miracles
How they empower: Starfish Project restores hope to women escaping human trafficking and exploitation in Asia. They provide life-changing opportunities through Holistic Care Programs and social enterprise where women create beautiful jewelry and become managers, accountants, graphic designers, and photographers. Through our Holistic Care Programs, they provide vocational training, healthcare, shelter, counseling, and education grants for our women and their children. Starfish Project has employed over 100 women and has served thousands through Community Outreach Services.
deux mains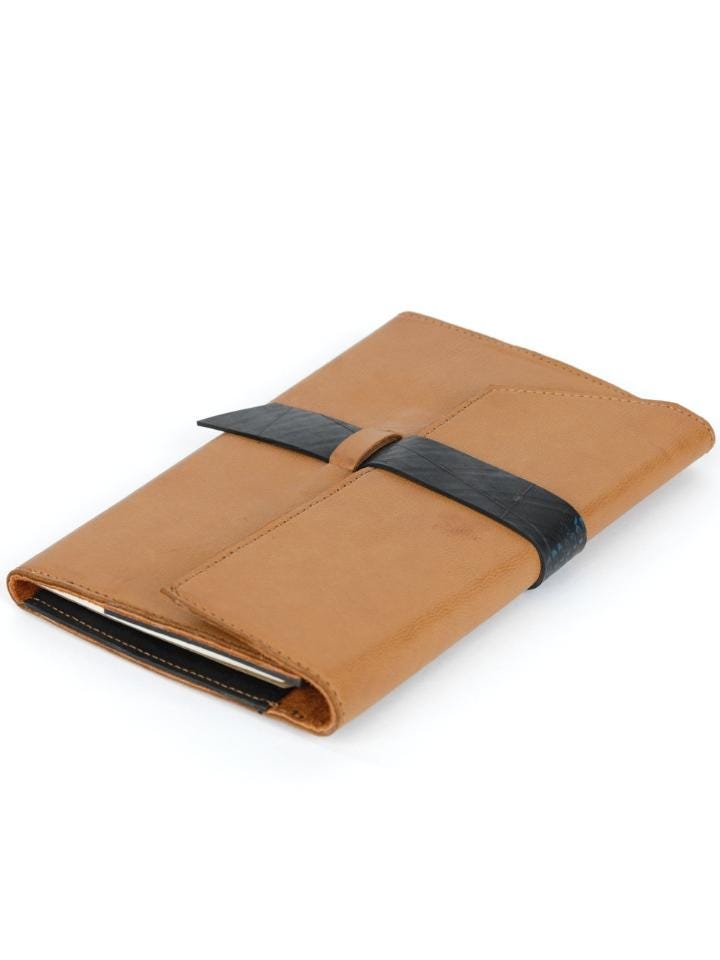 My Pick: Milo Leather Journal Cover - $24.99
I love a reusable journal cover like this. 100% genuine leather and recycled inner tube, it comes with a recycled paper journal and organic deux mains pen but once your journal is filled up, you can swap it out for any standard A5 journal so it lasts for a long time.
Other favourites: We included these leather bookmarks with a few gifted copies of my book and people loved them or the Anne Sandal. Or the City Classic Leather Tote looks amazing.
Special offer: 25% off the entire website with coupon code Bessey25
How they empower: deux mains grew out of REBUILD globally who provided the start-up capital and training to develop their sustainable and Haitian owned fashion company which is now producing a complete ethical fashion collection and employing dozens of Haitian artisans to not only make something valuable for others but a meaningful life for themselves. Now deux mains takes local and upcycled raw materials, and crafts sandals and dignified, sustainable jobs that provide living wages.
---
Brave Soles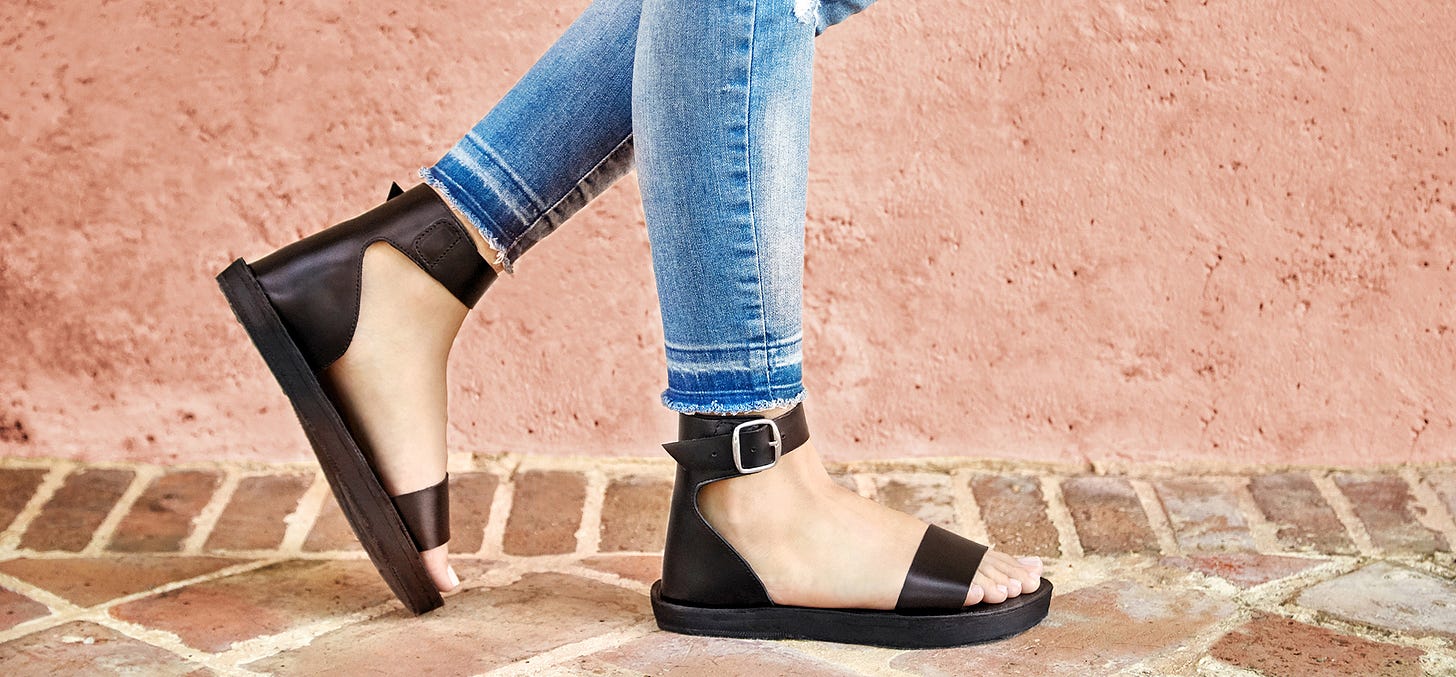 My Pick: The Camila Flatform Sandal - $79 USD
These gorgeous sandals are made from natural leather with an extra thick and cushy flatform midsole and their signature hand-cut tire sole. The leather is locally sourced and it's upcycled. For those of us who have - ahem - foot trouble from time to time, these are comfy with a lot of extra foam in the midsole and the heel is slightly raised so it has better impact absorption.
Other favourites: The Paola leather clutch (that scalloped edge!) or perhaps my youngest daughter's perpetual favourite sandals The Aventura. Their men's line is also very cool.
Special deals: 20% off your order with code SARAHB20 
How they empower: The story behind Brave Soles starts in a garbage dump in the Dominican Republic but that isn't where it ends. Each shoe sole is crafted using tires from the landfills and their foundation works to provide basic necessities for landfill workers in Hispaniola.
---
JusTea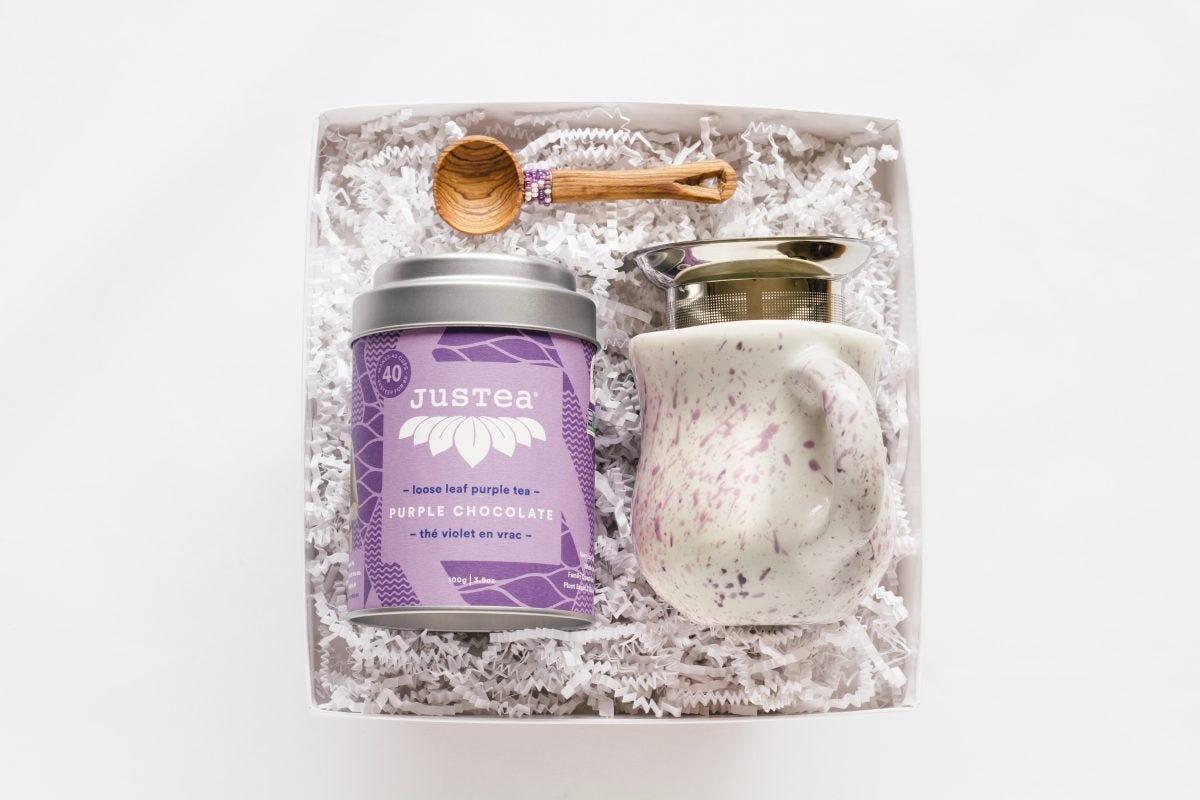 My Pick: Gift Box with JusTea's Purple Chocolate Tea Tin, PotteryWorks mug, and Tea Infuser - $50 CAD.
This loose leaf drinker's starter pack includes a beautiful handmade mug by PotteryWorks, a tea infuser and a tin of the very tasty Purple Chocolate tea. Best part: PotteryWorks is a collective of artists overcoming disability through their art and is closely linked with the Community Living Society. CLS offers personalized support and employment to adults living with disabilities. Plus all of the gift boxes come hand-wrapped in beautiful fabric sent over from Kenya so you're even saving yourself some work.
Other favourites: Purple Chocolate Tea Tin with Spoon or Kenyan Earl Grey
Special offer: 20% off your order with the code SARAH20
How they empower: A joint venture between Canadians and Kenyans, JusTea is Kenya's first-ever, small-scale farmer-owned, Artisanal Tea Factory. Together they are providing fair and sustainable wages for tea farming families including creating over 200 jobs for youth and women and partnering with a Women's Herbal Tea Co-op in Eastern Kenya.  Over 80% of the employees are women and they support hundreds of small-scale herbal tea farmers in their community. The Purple Chocolate Tea blend is in partnership with East Van Roasters who are providing the cacao. Founded by The Portland Hotel Society, East Van Roasters employs women struggling with mental health and addiction issues in Vancouver's Downtown Eastside neighborhood.
---
Girls Can! Crates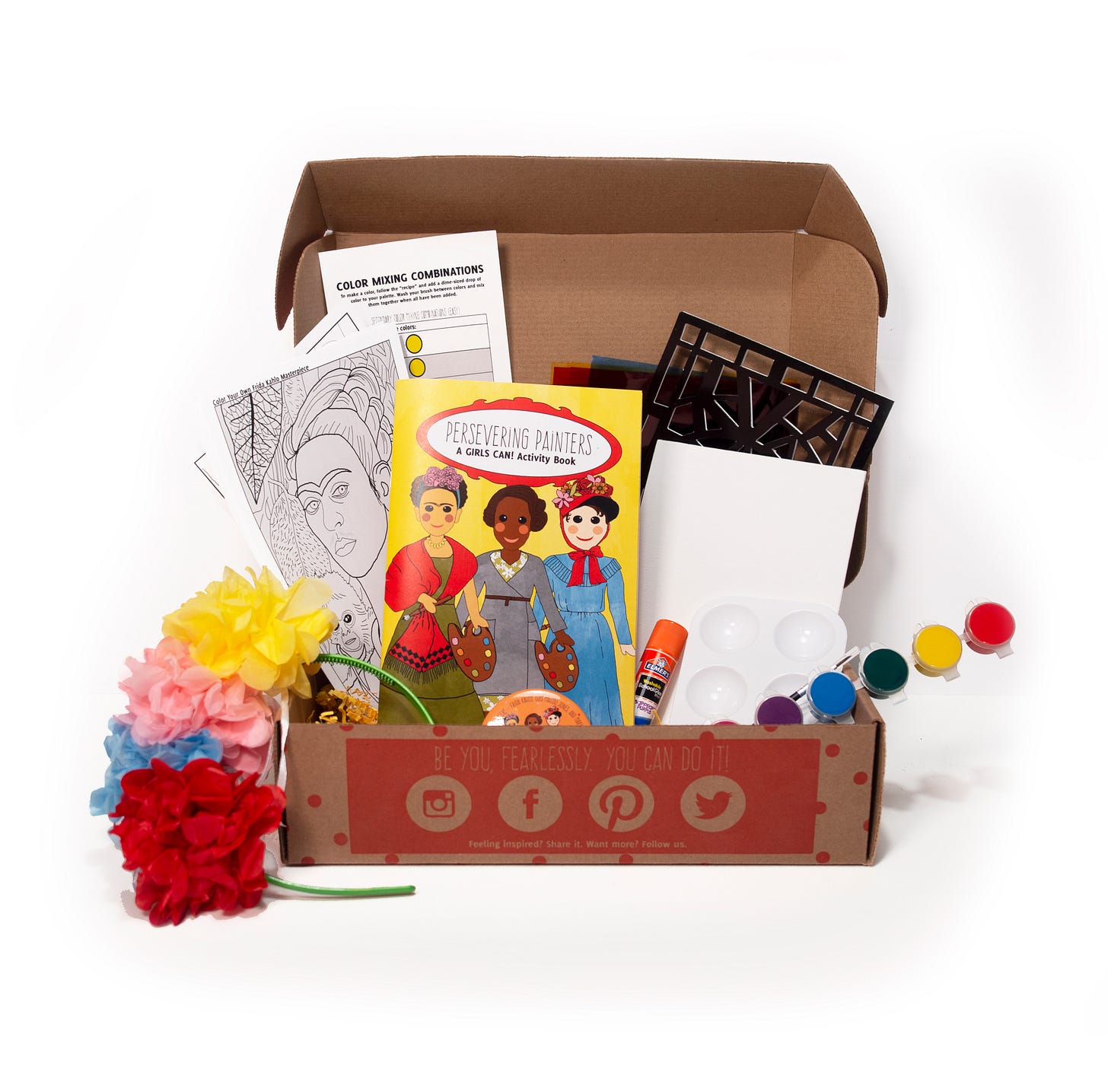 My Pick: 12-month subscription to GIRLS CAN! CRATES $32.95/month. 
I love subscription services anyway but especially for kids. Who doesn't love receiving a new gift every month? Every month's crate has a new theme like "Spy Science" or "Persevering Painters." Each month, the recipient will meet an inspiring female role model, discover her story in a fun 20-page activity book, receive a hands-on act or science activity, and also a surprise gift like stickers or play props and so on. Also available in 1, 3, or 6 month subscriptions. You can get single-child boxes or multiple-kid boxes, too. Mid-elementary kids would LOVE this one.
Other favourites: The Mini-Mailer is a smaller mailing with a big impact at just $18/month, it's an edited version of the crate or the Fearless Ladies tote bag.
Special deals: 10% off your order with code BESSEY (so if you signed up for a year subscription, it's 10% every single month of that subscription period which is a great deal!)
How they empower: The crates themselves are very empowering for our girls and that would be enough, I know. As Sally Ride said, you cannot be what you cannot see. This makes sure our girls can see the possibilities for themselves. But what really puts it over the top is how the organization use 10% of the proceeds from every single GIRLS CAN! CRATE purchased to give crates to local nonprofit organizations giving girls resources to succeed. 
---
PREEMPTIVE LOVE COALITION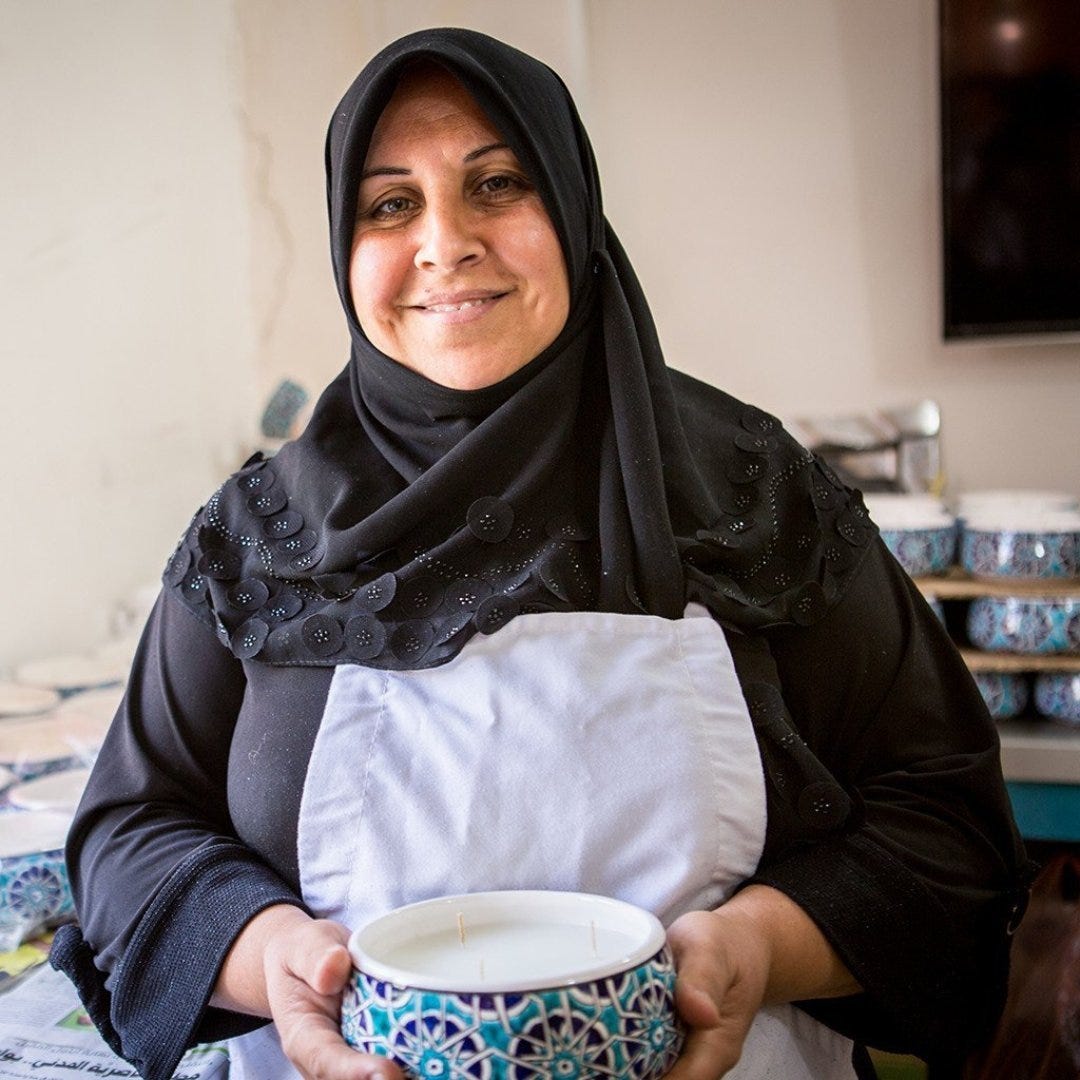 My Pick: Refugee-made Sisterhood Mosaic Road Ceramic Candles – starting at $38
I have zero chill about Preemptive Love. Zero. I love them so hard. So it was not easy to pick one thing but these Sisterhood Candles are handmade, one at a time, by women affected by war in Iraq. Each candle is designed to beautifully complement your home. The ceramic vessel can be reused after your candle is done, providing a lifetime of enjoyment. They write, "As you light one of these candles, we hope you'll remember your sisters in Iraq as they shine their light against the darkness of war." There are three sizes - 3, 4, and 6 inches respectively. They are made of 100% paraffin wax with a natural cotton wick.
Other favourites: The handknit animals make such good lovies for kids or the Preemptive Love enamel pins are a good addition to a teen's backpack. Their Sisterhood Sets are some of my favourite things to recommend.
Special deals: Use promo code BESSEY for 20% off your entire cart. (One time use per customer.)
How they empower: Preemptive Love is on the ground in Iraq and Syria, doing the real hard work alongside of refugees who refuse to let violence have the last word over their lives. They seek to help fast with relief on the frontlines of conflict with food, shelter, and medicine. But they also offer help that lasts by reducing the risk of war through job creation and to heal the past by reaching across enemy lines and creating a diverse community of peacemakers to stop the next war before it starts.
---
Cheekbone Beauty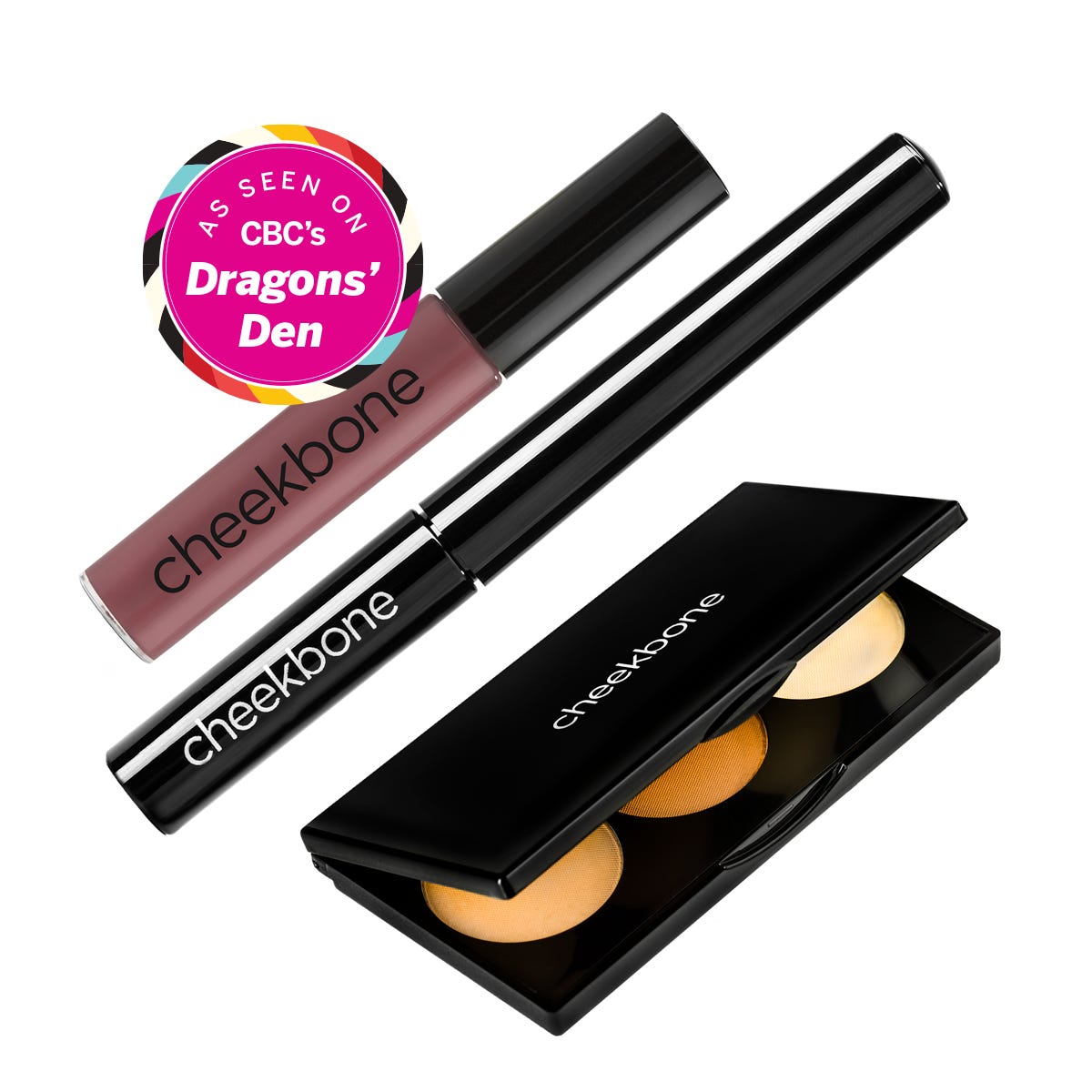 My Pick: Cheekbone Beauty Starter Kit $83
If you have a makeup lover in your life, this is their new favourite product. This bestselling set bundles together their most popular items for you to try including the Earth Contour palette with three beautiful shades, a Brow Gel in either blonde or brunette, and the deeply loved Sweetgrass Lip Gloss - people swear it's the best nude gloss they've ever tried.
Other favourites: The bestselling Warrior Woman red lipstick (I refer to this shade as my Preaching Lipstick - nothing better than preaching in bright red lips!) or the Stardust highlighter kit.
How they empower: Nominated by several readers, Cheekbone Beauty is an Indigenous owned and founded, digitally-native, Canadian cosmetics company established in 2016 by Jennifer Harper. Based out of St. Catharines, Ontario, Cheekbone Beauty is known for creating high quality, cruelty-free beauty products such as liquid lipsticks and complexion products including contour and highlight palettes. Cheekbone's aim is to not only make a difference in the lives of Indigenous youth through addressing the educational funding crisis but to also create a space in the beauty industry where Indigenous youth feel represented.
---
Fazl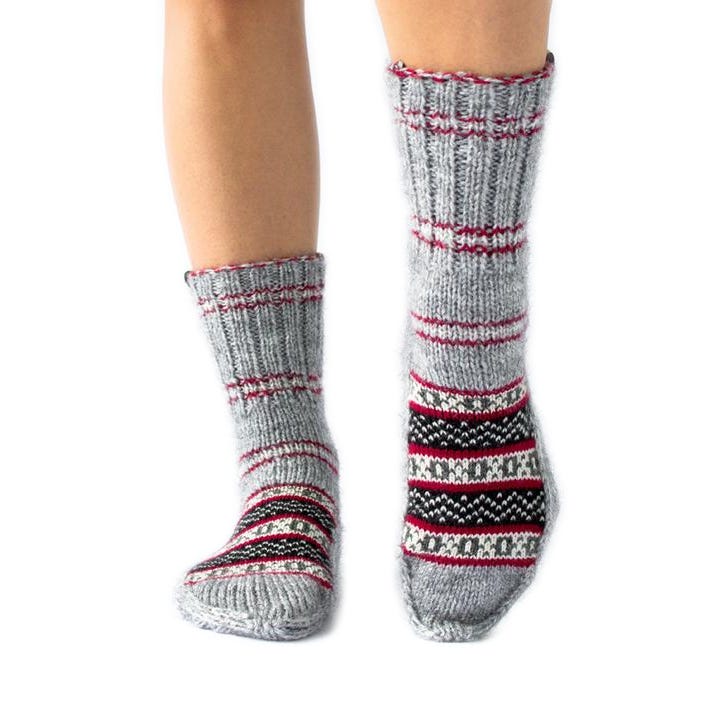 My Pick: Uttar (North) Knitted Socks - $24
Recommended by many a reader, these socks are an "homage to snow, evergreen trees, maple syrup, pond hockey, hot chocolate, and lots and lots of winter!" These warm socks will be perfect for those winter nights out on the pond, skating under the stars. Or for perching on the arena benches at the rink for those early practices - at least your feet will be warm! These are handmade in the Himalayas.
Other favourites: Matching mittens! or the Sittara Bag.
Special offer: Buy 1 and Get 1 Pair of Socks for 50% Off with the code BESSEY
How they empower: 50% of Fazl's net profits goes to orphaned and destitute children and their local workers get fair wages. Plus every purchase helps to provide orphaned and destitute children in India with food, shelter, education, and clothing.
---
House of Light Goods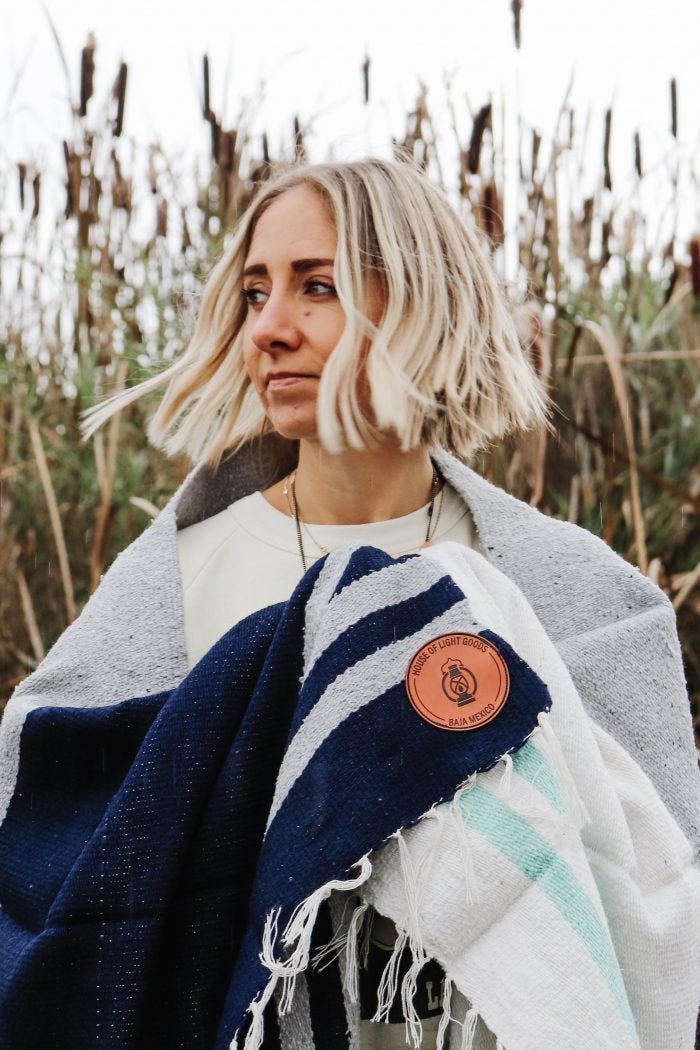 My Pick: Cruz Blanket - $100 CAD
These blankets are a staple here in Abbotsford - everyone loves them. They are perfect for mountain top adventures, sea side hangs, campfire moments and adding a pop of rich texture to your home decor. Best part: 100% of all proceeds from each blanket sold go directly to the moms and kids of Casa De Luz children centre.
Other favourites: Alegria Blanket Scarf (seriously so warm and cozy for cold climates - if you have a winter-hater in your life, this is their new best friend) or very long hand stamped necklace with an inspiring word like BREATHE on it.
Special Offer: 20% off your order with the code SARAH20
How they empower: Run by a couple of my friends here in town, House of Light Goods is a non-profit small business that provides empowered employment to single mothers in Primo Tapia, Mexico in cooperation with Casa de Luz and helps bring positive change to vulnerable families and children at risk. Each item is handcrafted by single mothers, enabling them to provide food, shelter and clothing for their children through empowered employment. 100% of their profits go back to Casa de Luz to provide nutritious meals, educational support, family counselling and other resources to impoverished families.
---
Imagine Goods Sustainable Supply Co.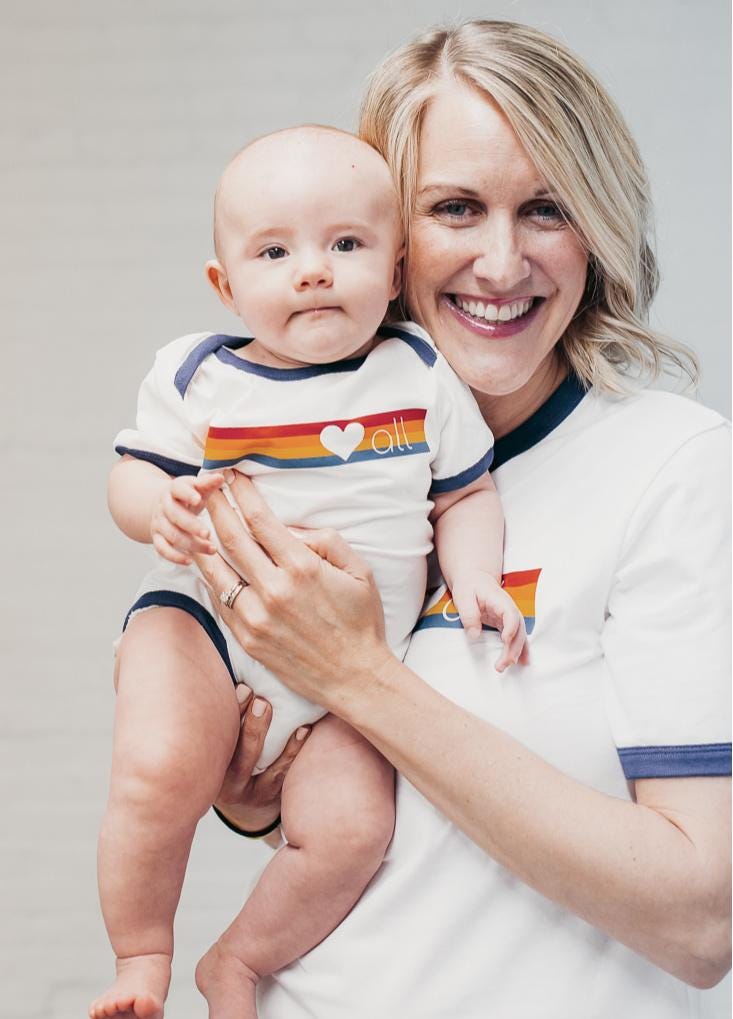 My Pick: Love All Baby Onesie - $25
I am a big fan of soft, comfy clothes for babies that easily work for naps and play anyway but this lovely design means you don't have to sacrifice cute for comfy. Made of soft cotton with a slight stretch, this statement making onesie is made by survivors of trafficking. 
Other favourites: The Annabelle Apron is so elegant and pretty or a beautiful new tablecloth to brighten up someone's home or The Emmeline Dress. Or if you have someone on your list who needs some new Pride gear, their Love All Tote is so pretty.
Special offer: 25% off your order with the discount code EthicalHoliday
How they empower: Imagine Goods carried my now sold-out Jesus Feminist collection a couple of years ago and they are also a reader-fave. Imagine Goods employs survivors of trafficking in Cambodia. They even source a lot of their fabrics locally in Phnom Penh & Siem Reap, Cambodia. They are creating products that care for the human race—giving opportunity for individuals to care for their children, families, and health. . . so that a new generation has a fighting chance to break the cycle of poverty.
---
Just One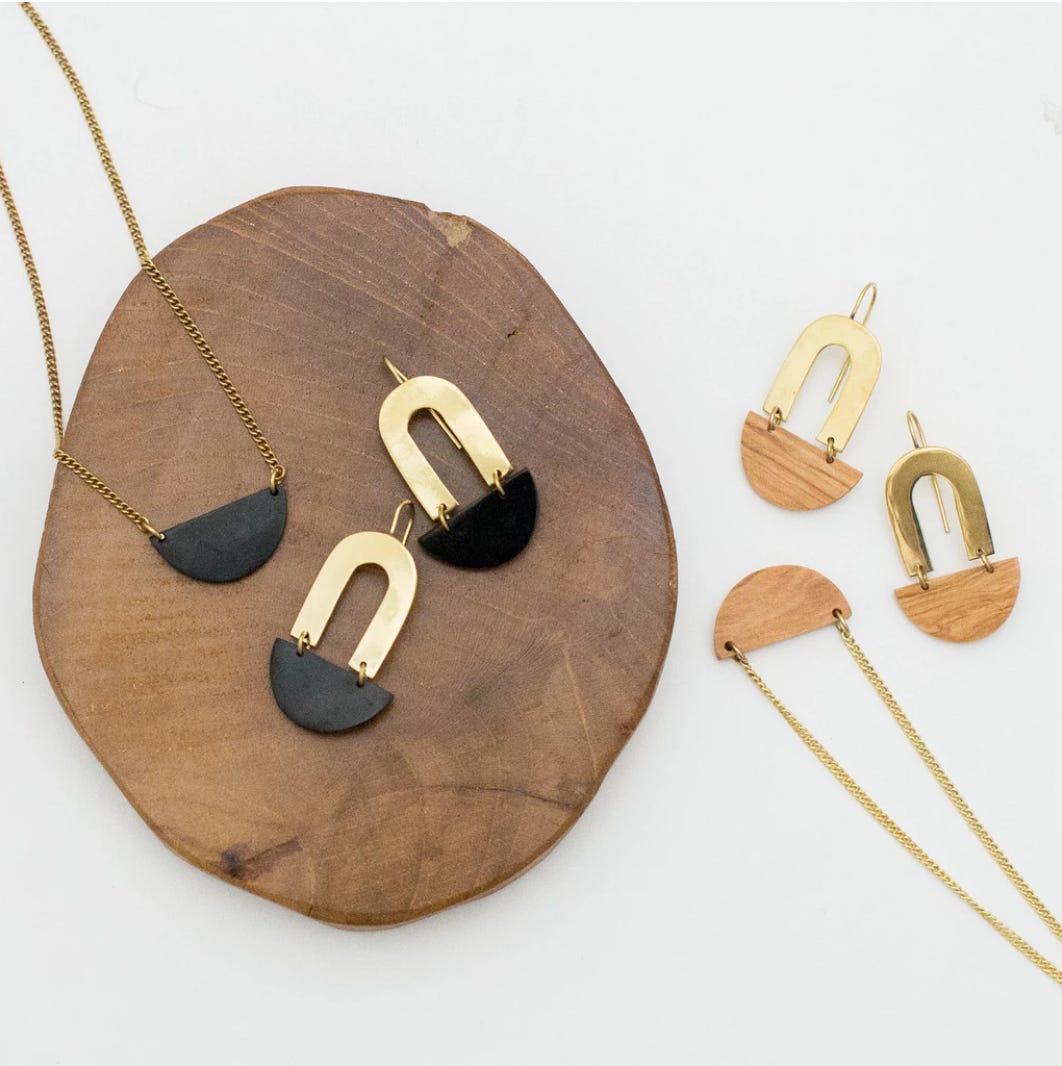 My Pick: Nguvu Earrings in Brass and Horn for $20 CAD
Nguvu means "strong" in Swahili. I love the mix of metals and wood or horn as a big statement earrings. Natural materials like this are my one weakness.
Other favourites: Kwoyo Scrunchies for stocking stuffers or the understated and elegant Nywele Hair Pin (I love these for my eldest daughter especially)
Special deals: 20% off your entire order with the code sarah2019 until December 25, 2019
How they empower: Just One is an organization that follows fair trade practices to offer world changing fashion.  Each purchase directly supports people around the globe struggling with poverty and brings awareness to their needs. Primarily working in Uganda, Just One purchases directly from local artisans who are mostly women and then also donates a portion of the profits back into the communities where they work and live.
---
Haiti Design Co.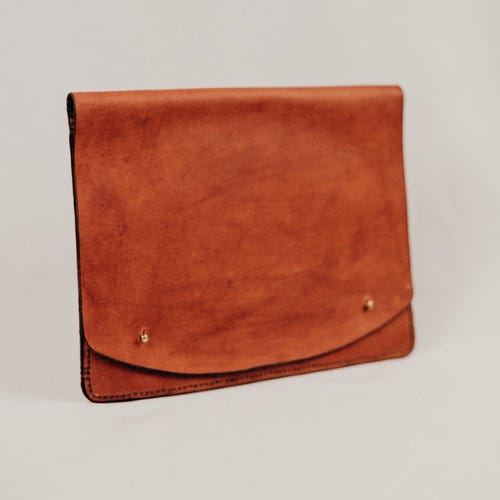 My Pick: Heritage Leather Portfolio Case - $96
If you're looking for a lovely case for an 11" or under laptop or for carrying important papers, this would be perfect for anyone in business. It's understated, elegant, and useful at the same time so that's a win. In addition to the genuine leather, that's brass hardware, too.
Other favourites: Heritage Passport Cover (for those of us with the frequent flyer miles) or Eloise the Elephant or this great value of a Neutral Necessities Bundle
How they empower: Employees in Haiti are trained in-house in leatherwork, sewing, or jewelry making. The goal is to provide skill training, consistent employment, and resources for personal growth. They are provided with a healthy lunch daily, health care options, savings accounts, emergency loans, counseling, and educational resources. A big focus is creating a safe, encouraging, and family-like work environment where individuals are supported and pushed towards personal growth and leadership. Haiti Design Co. also works side-by-side to bring this dream to a reality and give them the business training and resources needed to be successful entrepreneurs implementing the same values they learned while working in-house.
---
Thistle Farms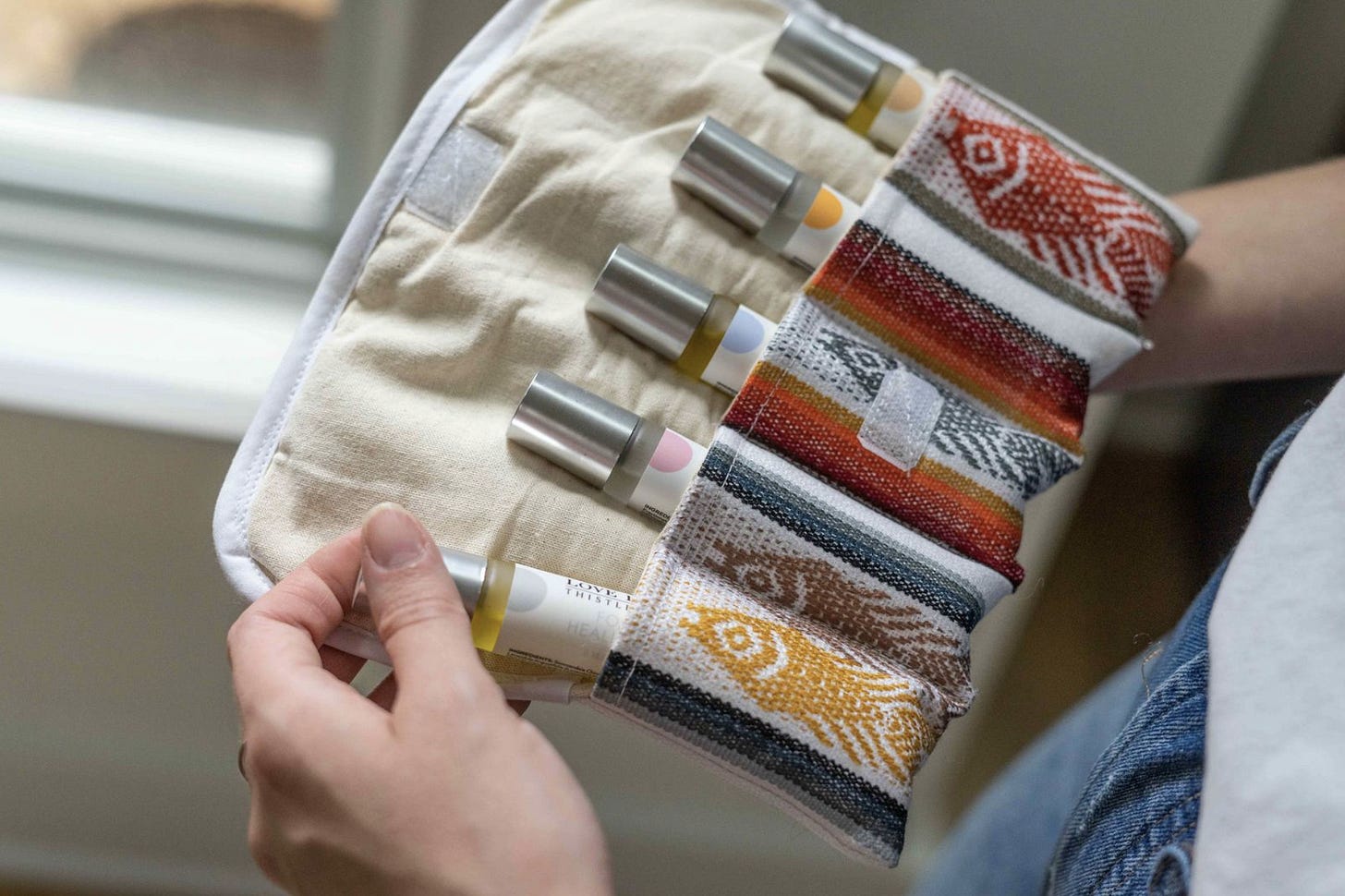 My Pick: 5-Slot Essential Oil Travel Bag - $68 USD
Yes, yes, fine, I'm all Team Essential Oils now, humble pie is just FINE. This starter set features a hand-sewn bag and five of the beloved Thistle Farms' best-selling Healing Oil blends in a rollerball bottle of 10ml each. Their Healing Oils are handcrafted and specially blended to promote physical, mental, and emotional wellness.
Other favourites: Cinnamon Cedar Love Heals Candle or the Self-Care Spa Set
Special offer: 15% off your order with the coupon code sarahbessey
How they empower: This was a big favourite among readers, nominated by so many of you. Thistle Farms' mission is to HEAL, EMPOWER, AND EMPLOY women survivors of trafficking, prostitution, and addiction. They do this by providing safe and supportive housing, the opportunity for economic independence, and a strong community of advocates and partners.  
---
Noonday Collection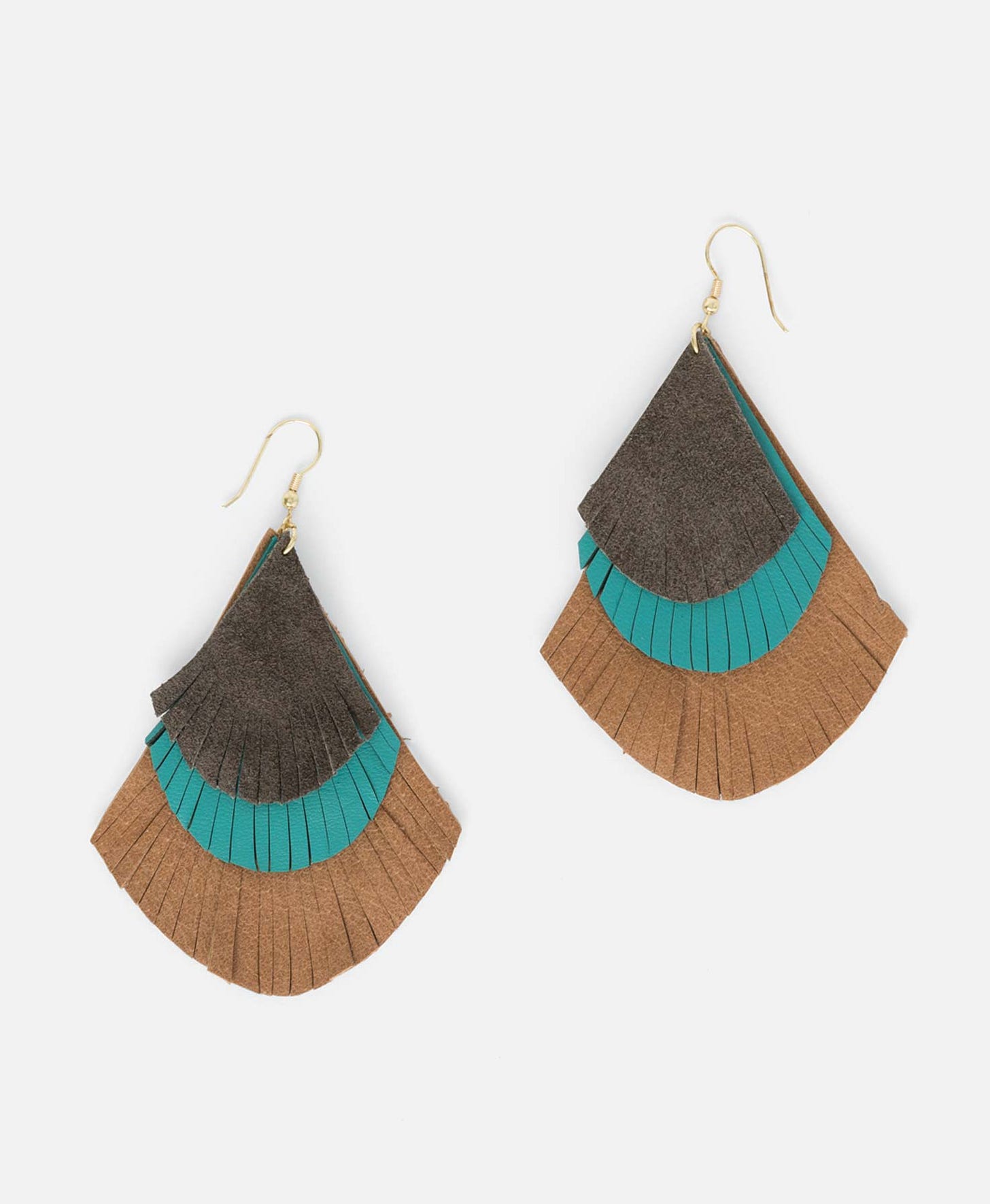 My Pick: Annie's Feathered Earrings - $36 USD 
If you have ever coveted Jen Hatmaker's leather-feather earrings, THIS IS YOUR HOOK UP. Made in India, these earrings are crafted from 3 layers of fringed leather in brown and teal blue. A lot of statement earrings are heavy on the ear lobes but these are light and easy to wear.
Other favourites: These Abide earrings are so modern and lovely or this versatile rustic leather wallet can be a cross-body bag or a belt-bag or a clutch. The Sonnet necklace also caught my eye.
How they empower: Noonday works to make a difference in some of the world's most vulnerable communities by partnering with Artisan Businesses – often women-run –  that share their passion for building a flourishing world. They develop these businesses through fair trade, empowering them to grow sustainably and to create dignified jobs. 
---
Happy Givers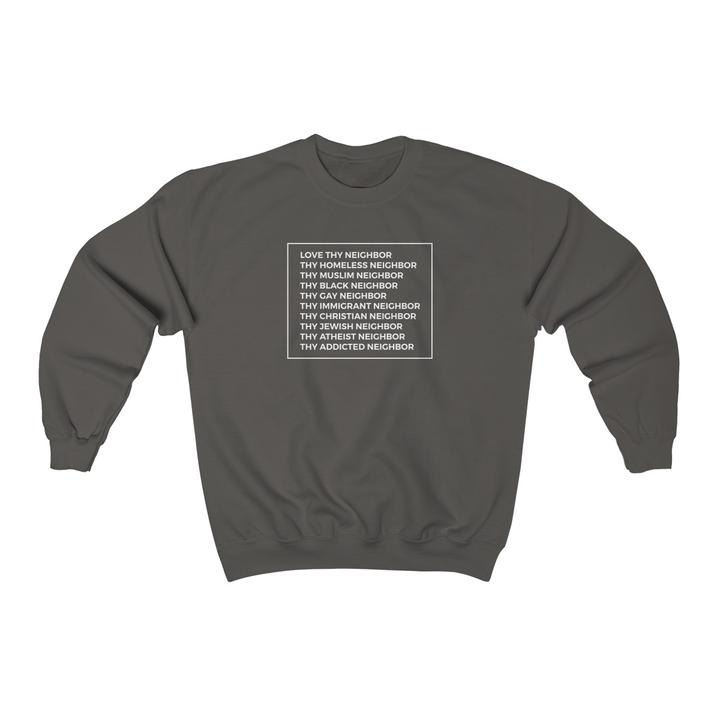 My Pick: Love Thy Neighbor Sweatshirt $42.00
I have a shirt from this collection (the plus size t-shirt, pictured here) and love it so much. But since it's winter time and we all want to be a bit cozier, I went with the sweatshirt. Perfect for feeling warm while making a statement, my two favourite things. It comes in 14 colours so you can choose your fave, too. This soft sweatshirt has a loose fit for a comfortable feel. Best part: the text is a walking billboard
(In case you can't read the shirt, it says "Love thy neighbor. Thy homeless neighbor. Thy Muslim neighbor. Thy Black neighbor. Thy gay neighbor. Thy immigrant neighbor. Thy Christian neighbor. Thy Jewish neighbor. Thy atheist neighbor. Thy addicted neighbor.")
Other favourites: Their "It's OK to have Jesus and a therapist too" collection or this print that any Jesus Feminist would love to have on their wall
How they empower: This org is pretty special because literally 100% of their profits to the support of the non profit they run which directly manages and assists a children's home in Peru, disaster relief in Puerto Rico, and an assistance fund for adoptive families in East Africa. They also do relief work during natural disasters.
---
Able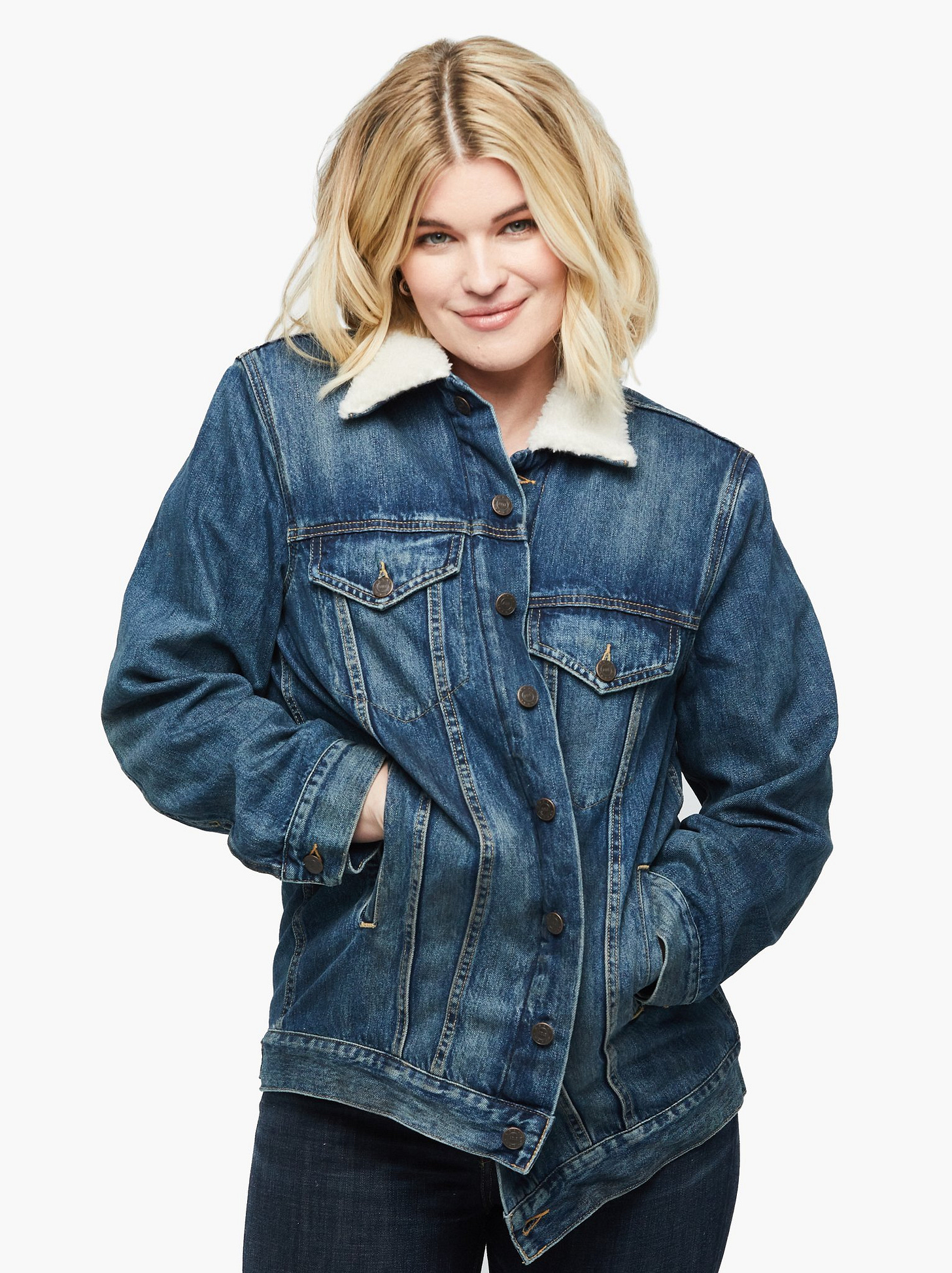 My Pick: The Andreina Sherpa Jacket - $262
I adore denim jackets and I already have one from ABLE so I know they're worth every penny. But when I saw that sherpa lining, well, TAKE MORE OF MY MONEY. It's an oversized fitted jacket and has a longer body which is nice for those of us who like some length on our jackets. And it's handcrafted in Mexico.
Other favourites: The Emmy Sneaker (white with a bit of leopard print, hello Mum, I found your new fave) or The Sonu Feminine Sweatshirt.
Special Offer: 20% off your order with the code SARAHBESSEY20
How they empower: ABLE is a lifestyle brand focused on ending generational poverty by working with women who have often overcome extraordinary circumstances. They manufacture directly in the communities they wish to impact, both locally and globally, creating jobs and ending the cycle of charity dependency. They choose to invest in women because they know that when women thrive so do their communities.
---
Northlore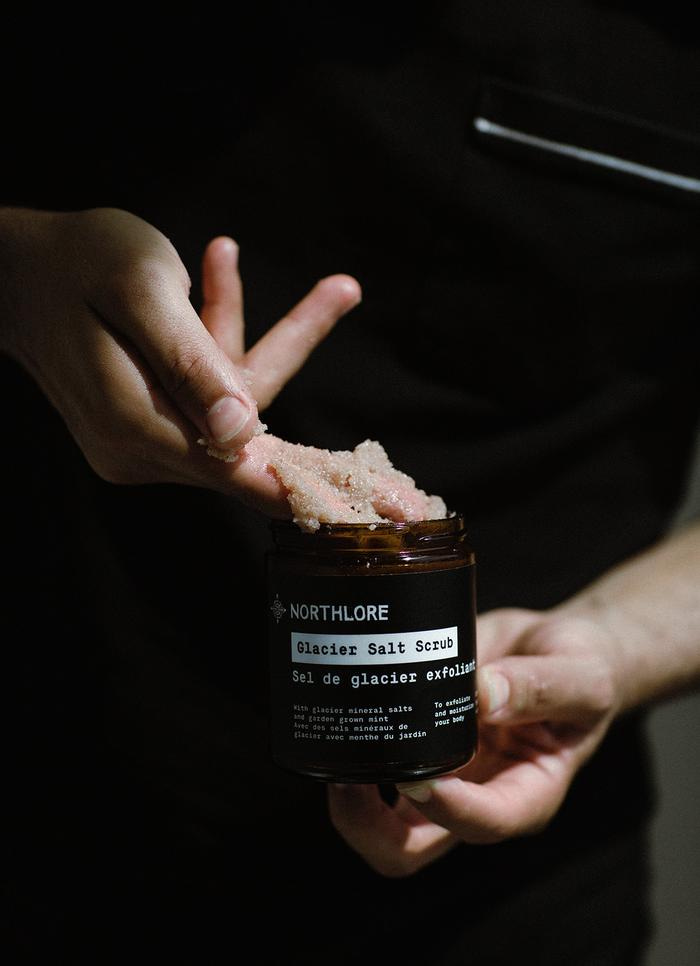 My Pick: Glacier Salt Scrub - $34
Your dry, dull skin is sick of winter already and this is the answer. This revitalizing body scrub is made from ethically sourced Canadian glacier mineral salt crystals, cold-pressed botanical oils, and garden-grown mint - it is so refreshing and bright. Use it in the bath or shower to naturally exfoliate and deeply moisturize your body.  Everything is organic, non-GMO, gluten-free, cruelty free, and garden grown.
Other favourites: Plains Mud Mask or the Rosehip Toning Mist
Special Offer: 20% off your purchase with the code MERRY 
How they empower: Northlore has a long list of commitments including operating on a feminist and anti-racist business model. Whenever possible they "support businesses and cooperatives run by women and people of colour, recognizing the disadvantages BIPOC folx face within current capitalist, patriarchal systems." Plus they also donate 10% of their profits to Indigenous Climate Action, an indigenous led organization that works to empower indigenous communities to take action on climate change.
---
SEEK (The Peace)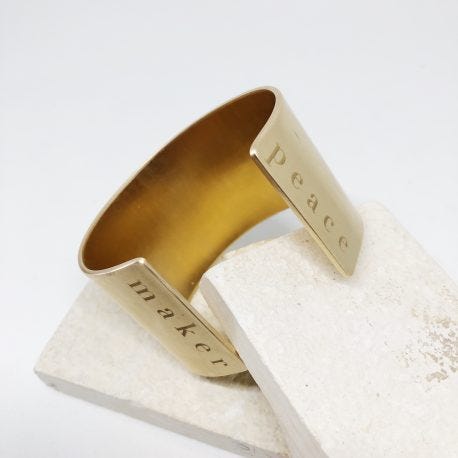 My Pick: Brass Peacemaker Cuff - $40
I know as an Enneagram 9, I'm preconditioned to love any reference to being a Peacemaker but seriously, this is lovely. The brass peacemaker cuff is the result of a creative collaboration by Seek and Lovishly. It is a 6" wide adjustable brass cuff engraved with the words "peace" and "maker."
Other favourites: Jerusalem Floral and Fig Candle or the She Brings Peace print
How they empower: SEEK comes alongside refugees on their journey towards healing, resiliency, and peace making. In addition to "warmly welcoming and strategically integrating" refugees, SEEK focuses in the thematic areas of Conflict Transformation, Capacity Building, and Advocacy. These guiding themes direct their programmatic focus in the areas of girls and women's empowerment, education for children and youth, trauma healing, and developing leaders for peace. Their advocacy includes a focus on refugee and peace and security policy at the local, state, national and UN levels as well.
---
Sseko Designs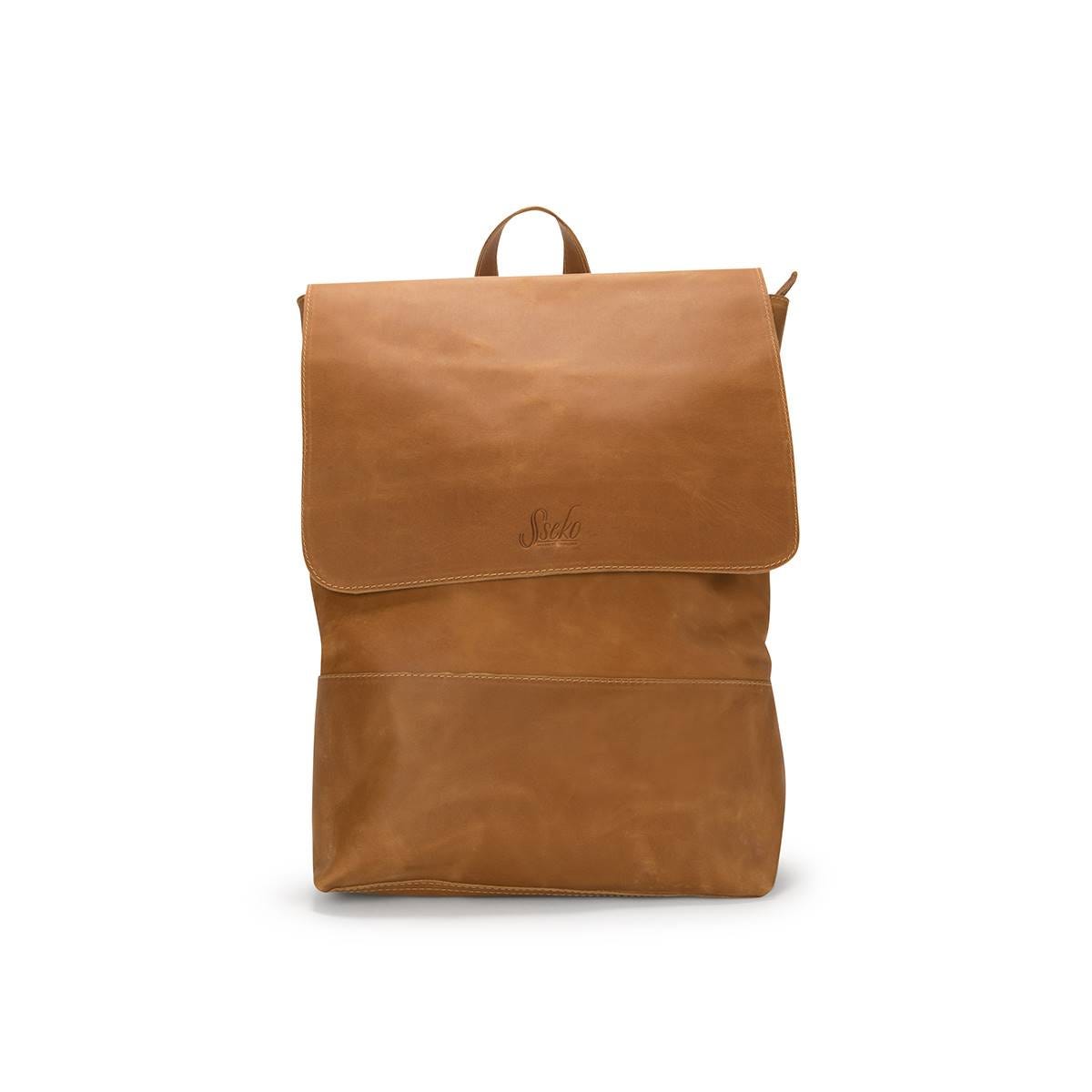 My Pick: Eden Backpack in Cognac - $249
I am on record as being utterly devoted to Sseko's leather bags (especially the Safari Bucket Bag which has been my constant companion lo, these many years) but carrying big bags is hard on our backs and shoulders so I've been eyeing this stylish backpack version of a bucket bag. I see them in airports all the time and covet them every single time. If you have a traveller or a "big bag" carrier, this would be the perfect luxury gift of an investment piece you could use for years and years. The sleek structured silhouette of the Eden Backpack will elevate your outfit, and the spacious interior is perfect for carrying anything and everything - and the top zips. Praise hands.
Other favourites: Their founder Liz Forkin Bohannon wrote a book earlier this year called Beginner's Pluck: Build Your Life with Purpose and Impact Now that would be an inspiring addition to the gift bag for a young woman especially or the Open Front Duster in Olive Linen paired with the "Like a Girl" Is a Compliment t-shirt
How they empower: Sseko Designs uses fashion to create opportunity for women globally. They provide employment and scholarship opportunities to women in Uganda who are working to pursue their dreams and overcome poverty. To date, they have enabled 131 women to continue on to University. In addition to their university-bound team, Sseko hires women come from all walks of life who face a challenging job market. By creating an environment of dignity, honor, and dedication, Sseko Designs provides the opportunity for women in East Africa to end the cycle of poverty and create a more equitable society.
---
Dignify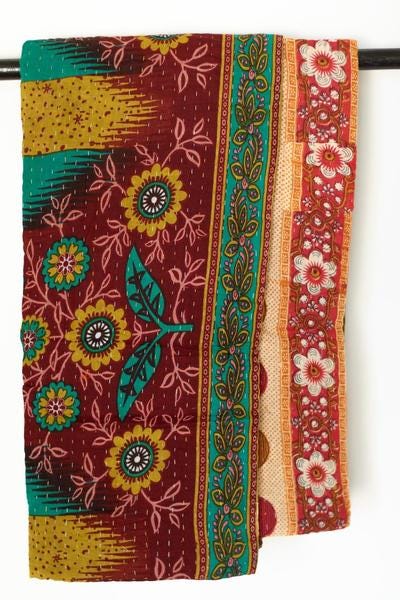 My Pick: Hibernate Kantha Throw - $98 
I literally use my Dignify throw every single day. Hands down, it's the best gift I've given to others, too. These beautiful throw quilts are made from six layers of vintage saris, hand-stitched together by women in Bangladesh using the traditional kantha stitch. They are the perfect weight for snuggling underneath on a chilly evening – not too heavy, not too light and always in high demand in the house. And this year: cheery Christmas colours are available!
Other favourites: The Chestnuts Holiday Throw or the Kantha Christmas Tree Skirts
Special offer: 15% off until December 31, 2019 with the code SARAHB
How they empower: Another popular reader nomination, the Dignify blankets are handcrafted by women who were previously trafficked into or otherwise engaged in formal or floating sex work (or at risk) and are now employed in work that brings dignity & livelihood in Bangladesh.  The price of a Basha product pays for things like on-site day care, medical support, benefits such as an annual bonus & paid leave, ongoing education, as well as a fair wage to the woman to made it.
---
BLK + GRN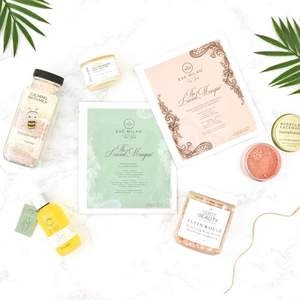 My Pick: Pure Indulgence Gift Set- Regularly $160, currently on sale for $125
This gift set will be a welcome sight on Christmas morning - it restores mind, body, skin, and soul. It includes an organic bath and body oil, Satin Rouge Body Polish, Skin Enhancing Body Button, Calming Bath Milk, the Lacial Face Masque, and even an organic tote bag to tuck a new book or two into for that long soak in the tub.
Other favourites: $50 gift card to invite experimenting with new products or the Foot Care Essentials Set.
How they empower: BLK + GRN connects Black women with natural lifestyles to high-quality, toxic-free brands that share in their mission of health, wellness, and community cultivation. This is an all-natural marketplace of Black artisans carefully chosen by Black women's health experts especially for Black women.
---
Hello Sunday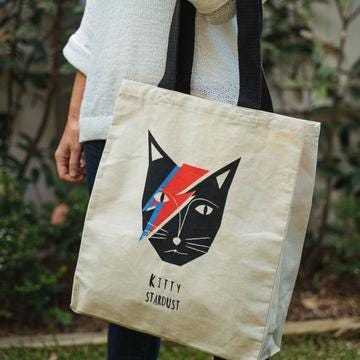 My Pick: Niaski Kitty Stardust Large Tote Bag - $27.50 AUD
This one's for my Aussies! I remembered you this year - and don't fret to the rest of us, they do ship internationally. Our house is cat-obsessed and artist-appreciative so this mash-up of David Bowie + Kittens is aggressively on brand for us. There is also a Pablo PiCATso and a Frida CATlo version. Plus these 100% cotton totes are made from super strong, unbleached 100% cotton and they are ENORMOUS - you could do a whole library haul in that bag. There are even matching enamel pins - hi, Purr-ince!
Other favourites: The Natural History Writing Set or these Women Trailblazer adhesive page flags
Special deals: 20% off with code hello20
How they empower: Hello Sunday is a values driven creator of thoughtful products which fuse natural materials, ethical manufacturing and beautiful graphics. 
---
cuddle + kind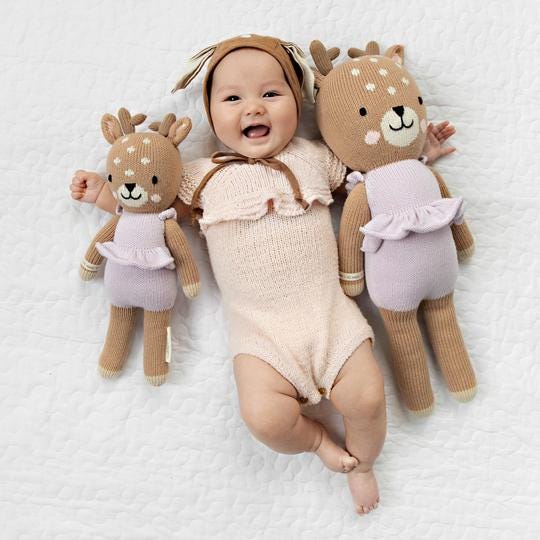 My Pick: Violet the Fawn - starting at $70
I'm sorry, hand-knit forest animals in clothes? Did someone just put up the Sarah-Signal? I'm so here for these gorgeous heirloom quality toys. And the best part? Each doll you purchase provides 10 meals to hungry kids. If you know of a new baby, this is your gift.
Other favourites: Benedict the Bunny or Lucy the Lamb
How they empower: In addition to their amazing goal of providing one million meals to hungry kids through cuddle + kind, this family of five also employs women artisans in Peru to create the heirloom-quality handknit dolls with a sustainable, fair trade income.
---
Sudara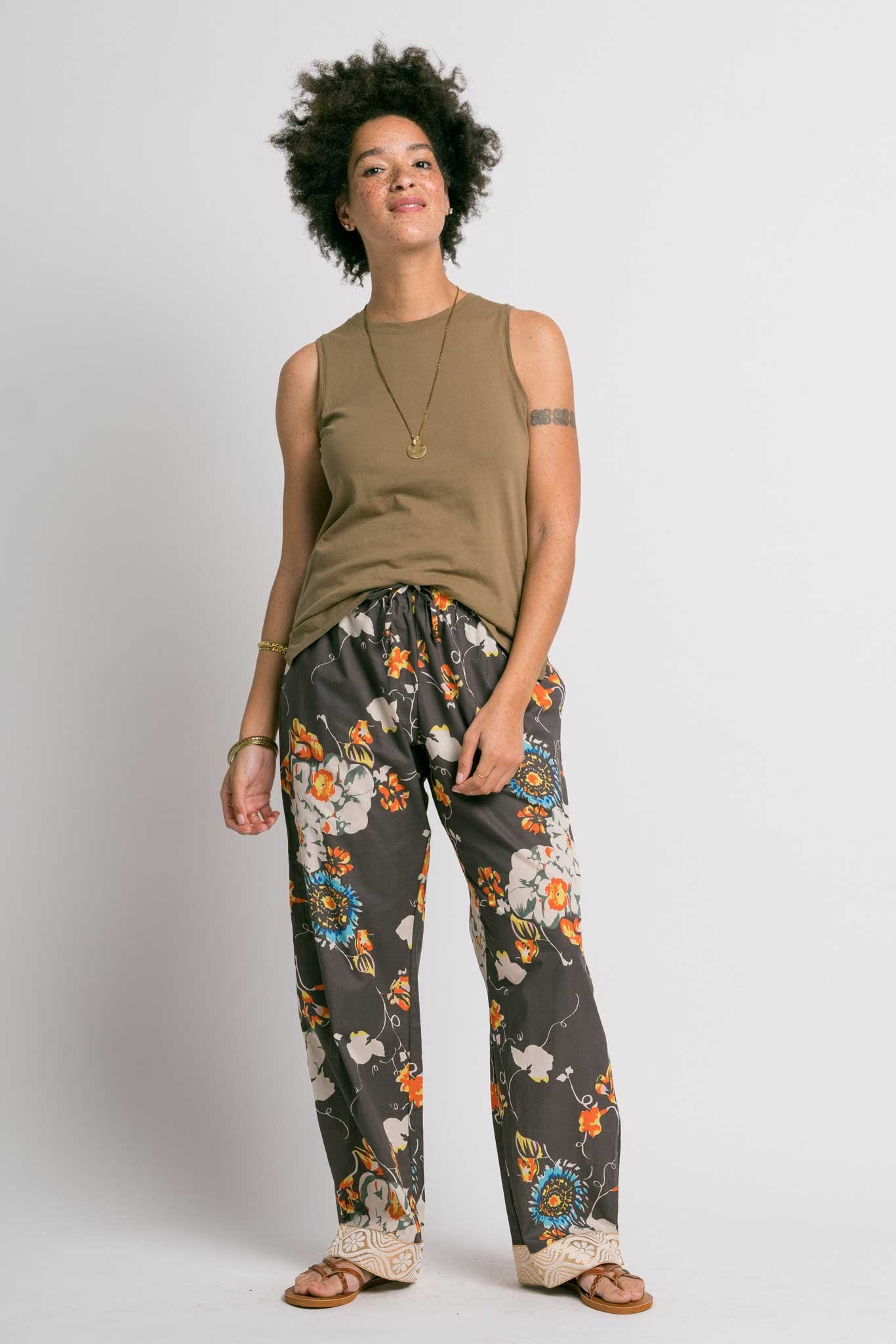 My Pick: Leela Full Punjammies Lounge Pants - $54
I have been obsessed with Punjammies for years now. For those of us who want to live in pajama pants, they are a gift from heaven because they are jammies but also cute. The Leela print features dreamy white peonies blossomed across warm taupe/grey cotton. Accented with pops of turquoise, saffron and marigold florals - plus they are 100% cotton.
Other favourites: Bhara Kids Punjammies! or a matching dog bandana with your jammies? sign my sister up!
How they empower: Sudara was signal boosted by several readers including Sheri and Siv because Sudara advocates on behalf of and empowered women who have escaped from, or at the highest risk of, human trafficking by providing dignified employment opportunities. Through their associated non-profit, Sudara Freedom Fund, they have an even greater impact on the lives of women and children in India by equipping even more women and their children with education and housing and micro-loans — tools needed to build and sustain a new life such as the Sunetha Home, supporting long-term, systemic change by directly addressing issues that lead to generational sex work.
---
Krochet Kids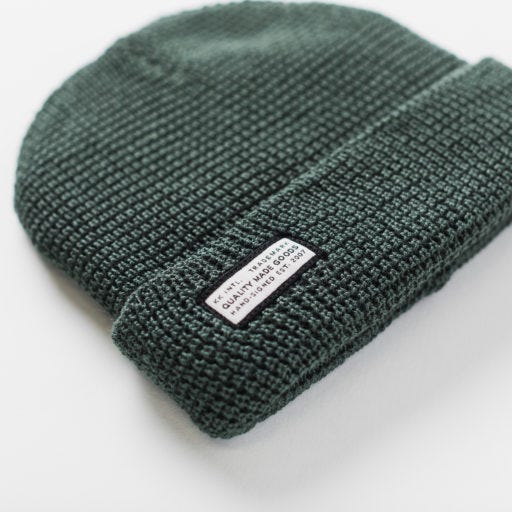 My Pick: Oskar Beanie - $24
We have a couple of Krochet Kids beanies and they are consistently the fought-over hat every winter. They are light, comfortable, warm, and quite stylish. This waffle stitch comes in many different colours and would be a great addition to any cold climate.
Other favourites: The Pike Weekender bag or the Carson infinity scarf
How they empower: Krochet Kids' combined products, non-profit partners, and community work in unison to help people break the cycle of poverty. They provide life-changing job opportunities to vulnerable women in poverty stricken regions of the world with anti-poverty wages. And you can "meet" every person who makes their products so there is no faceless factory work here.
---
SheNative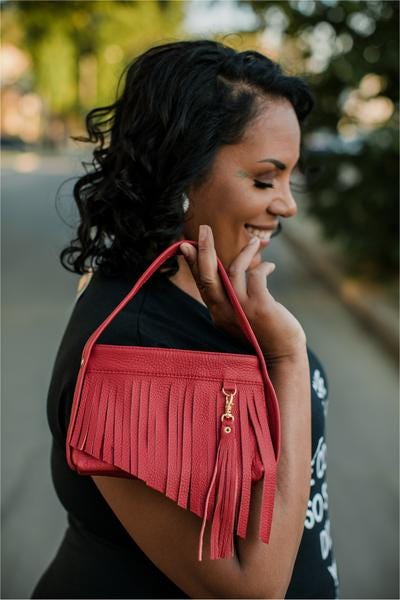 My Pick: Red Freedom Fringe Purse - $175 CAD
The Freedom Fringe Purse is part of SheNative's The Red Collection which was inspired by Jamie Black's REDress art campaign to serve as a daily reminder to honour murdered and missing Indigenous women and girls. 15% of the profits from this collection go to a charity that either provides support services for Indigenous women fleeing domestic violence or programming intended to empower Indigenous women and girls. The purse is also really, really lovely - combining modern design with traditional fringes - and it's made in Canada.
Other favourites: She Warrior v-neck t-shirt or indigo blue Strength Bag
How they empower: Founded by an Indigenous woman with a passion for First Nations entrepreneurs, SheNative was launched to create gorgeous goods and to elevate Indigenous women. SheNative employs 100% Indigenous women in the design and manufacturing of their goods. They also showcase stories of Indigenous women and cultural knowledge through their products and facilitate a powerful and positive narrative about Indigenous women and their cultures. Plus they are based in Saskatoon!
---
THE ADVENTURE PROJECT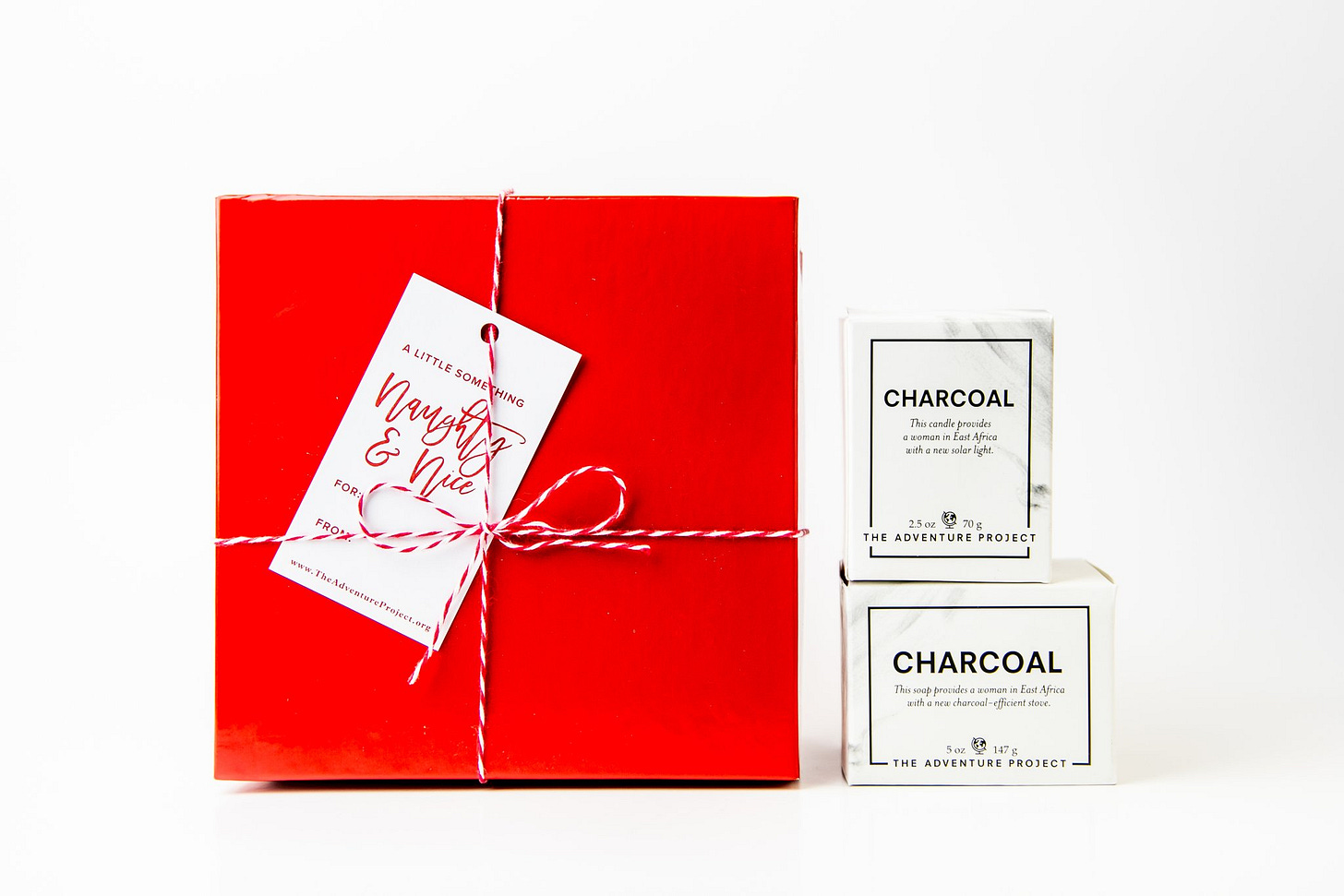 My Pick: Charcoal Candle and Soap Gift Set - $45 USD
This is a limited edition gift set for the charcoal-trend lover in your life. But the best part is that this purchase will provide a family in Kenya with a new, charcoal-efficient stove and a new solar light. The set includes charcoal soap mde with camboo charcoal power with coconut, olive, and organic palm oils (5 oz), charcoal votive candle (2.5 oz) scented with cedarwood and sandalwood - it smells so good, a red gift box with ribbon (saving you wrappin - bonus), and brochure explaining the impact. They will even handwrite the card for you!
Other favourites: A bar of charcoal soap
Special deals: Get free shipping with a purchase of ten items or more.
How they empower: Your purchase of charcoal soap will put a charcoal efficient stove into the home of a woman in Kenya, yes, but the larger story of The Adventure Project is that it is a collective of people who are empowering entrepreneurs and leaders in developing nations with venture capital and investment in their dreams.
---
TreeTops Collective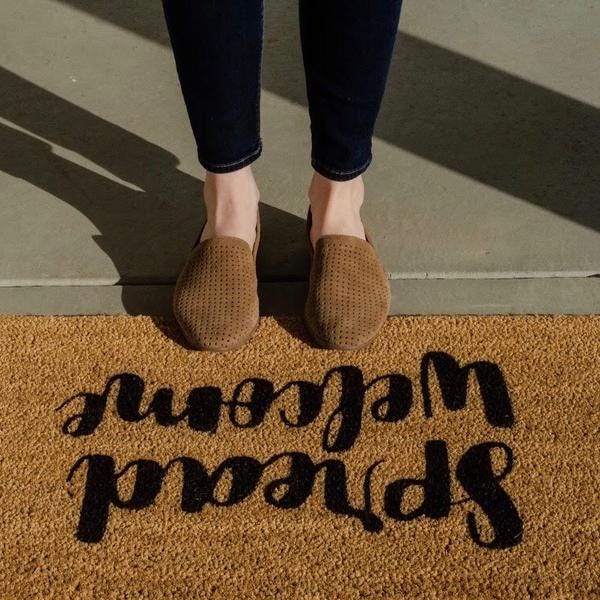 My Pick: Spread Welcome welcome mat - $45
Hospitality right from the front door. Made with environmentally friendly coco mats and coir matting, these doormats are hand woven out of 100% natural coco husk fibers. Not only does this spread welcome as you invite new friends into your home, but it spreads welcome as you show care for the world you inhabit. And it would be a great complement for the You Belong Here outdoor pillow on your mythical front porch swing…
Other favourites: We are the women we've been waiting for T-shirt or the Good Neighbour in Training baby onesie
Special offer: 15% off your entire purchase with code WEARETHEWOMEN (until Dec. 31)
How they empower: According to Field Notes reader Amber, "Treetops help to build a more welcoming community in Grand Rapids by employing and connecting female refugees from around the world who have settled here. All the materials they us are sustainably and ethically sourced, and handcrafted by women who have brought along their amazing variety of skills. There's a children's clothing line and one for women (with my favorite "We are the Women We've Been Waiting For" t-shirts), housewares and even handmade pottery. They also create mentorship opportunities for these New Americans and social circles where they can help each other. It's beautiful (and I love everything they create)!"
---
HEX Metals & Minerals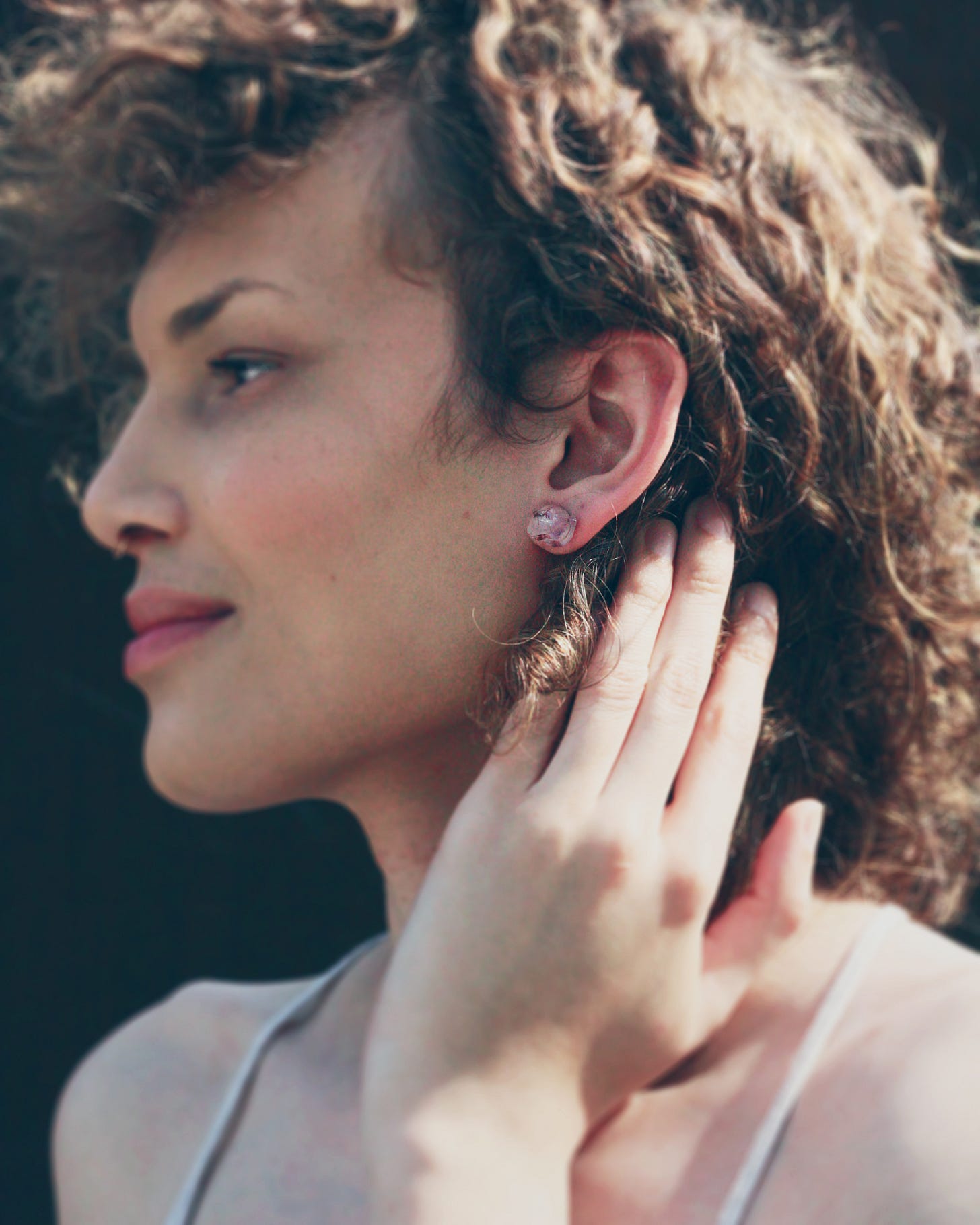 My Pick: The Pedra Da Mina Crystal Stud Earrings - $40 CAD
You can select your own choice of crystal for this stud earring (I'm partial to the lodestone or the pink topaz pictured above). These are both delicate and a strong statement, natural and refined, feminine and masculine at the same time. And the earring backs are nickel free which is helpful for those of us with sensitive skin. Designed by Adrienne Yeung.
Other favourites: The Planets Rings Amazonite Triple Stone Ring or the Assiniboine Necklace
How they empower: Their handcrafted jewellery graces every kind of body and every gender presentation. HEX Metals & Minerals is proudly queer-owned and committed to promoting visibility of queer and trans, Black, Indigenous, and other people of colour (QTBIPOC). All models featured are queer-identified people of colour. Additionally, 5% of every piece sold goes to Freedom for Immigrants towards freeing someone from ICE detention.
---
Mango + Moose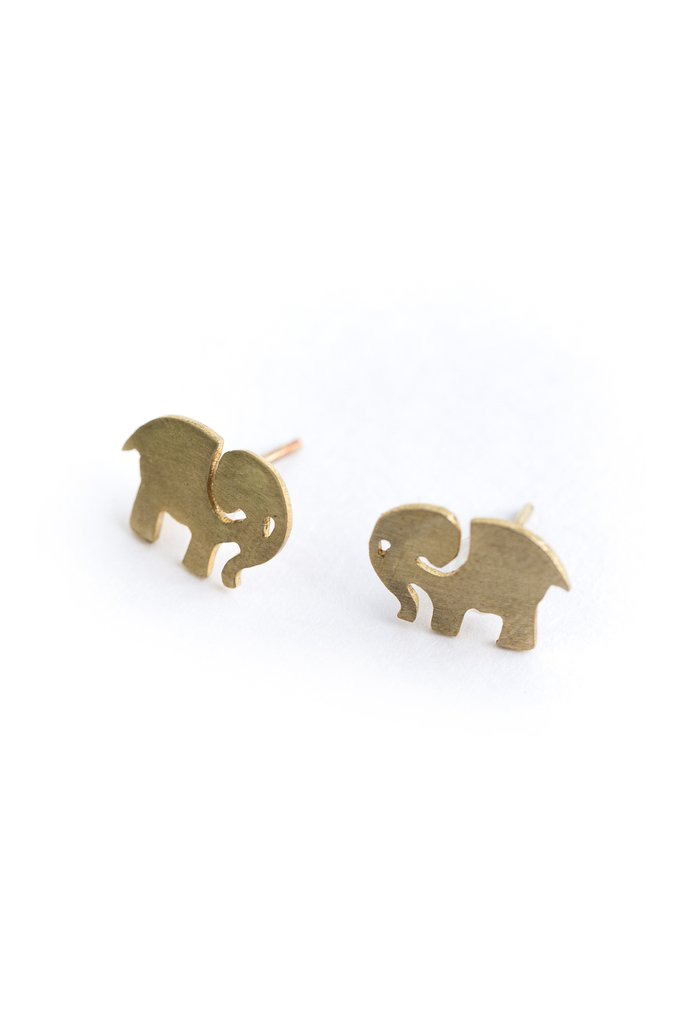 My Pick: Elle Gold Earrings - $24
You know my affinity for elephants as a metaphor for the best girlfriends (it's a long story) and you better believe my face lit up at the sight of these babies. There is even a matching necklace! *swoon*
Other favourites: Plaid Table Runner just in time for the holidays or this sweet wooden safari set of animals
Special Offer: 20% off your order with discount code Sarah20 (until the end of the year)
How they empower: Through Fair-Trade Practices, all artisans – who are mainly women – receive fair wages, education, financial and technical assistance, while working in safe conditions. In addition, a Girls Education Fund has been established to help combat the reality that 64% of adolescent girls are forced to leave school early to care for younger siblings, help run the household, or for arranged marriages.
---
Hon's Honey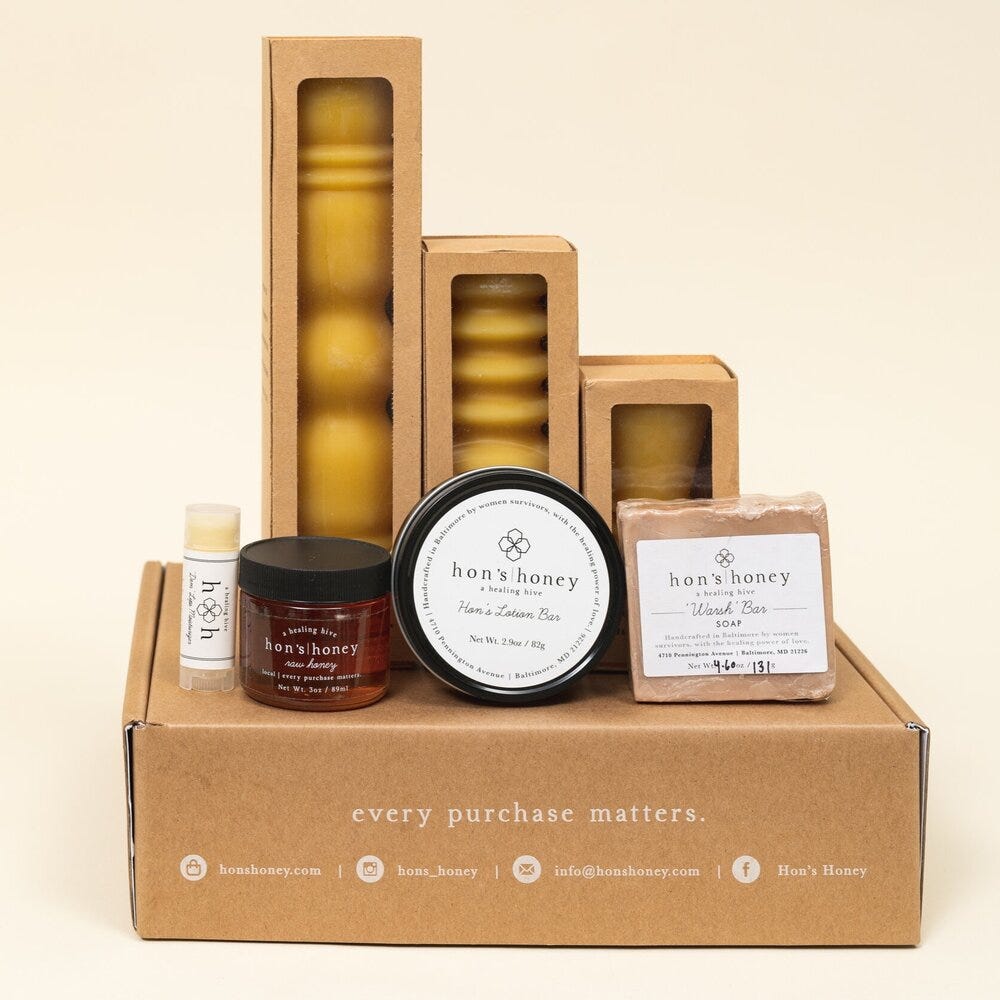 My Pick: Christmas Gift Box - $65
This box makes me happy just to look at it. This stuffed with honey-goodness box is full of handmade, all-natural products such as three beeswax candle set, a Honey Sampler (3oz), Hon's Lotion Bar. Vanilla Spice Warsh Bar. and Dem' Lips Moisturizer.
Other favourites: The Beeswax Candles (three different sizes) or Da Balm Beard Salve for the hirsute among us. But no need to make a fuss - you can also just go straight Raw Honey for your kitchen and call it good.
How they empower: Based in Baltimore, Maryland, Hon's Honey is a social enterprise dedicated to giving dignity and purpose to women survivors of addiction, sex trafficking, generational poverty, and trauma. All products are made by an empowered community of women — each one committed to transforming their lives and embracing the next woman who walks through the door.
---
FINALLY…
The readers of Field Notes self-created a thread of even more shops that could practically be a directory for empowered shopping this Christmas so if you didn't see something that caught your eye here, check this thread out for more options. (I wish I could have featured every single shop.)
DON'T MISS IT: There is a special bonus Christmas giveaway from many of these shops coming up for paid subscribers next week along with my book recommendations, too so watch your inbox for that…which reminds me: a paid subscription to Field Notes also makes a great gift!
May your Christmas - all of it - bring good to the world and hope to many hearts.
After all, maybe we all need just a little bit of love.
Tea, candles, jammies, and Christmas morning,
S.
P.S. Shameless self-promotion time: my own books are also FANTASTIC Christmas gifts. You can read more about them here.
Images are all courtesy of each shop along with some descriptive language. They reserve all rights.
One final disclosure: as much as I did my due diligence, I can't be held responsible or accountable for the practices or underworkings of each of these shops. To the best of my knowledge, they are good partners. I hope that holds up in the wash.