What should we read together next year?
Planning our Field Notes Book Club 2020
It's almost that time again - book club time!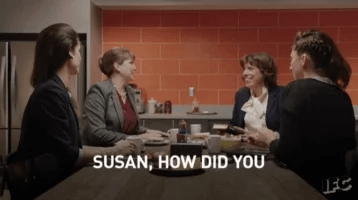 And this year, I'd love your input on our selections. So what books should we consider for our Field Notes Book Club in 2020?
As a refresher, here's what we read in 2019:
January - Four Gifts: Seeking Self-care for Heart, Soul, Mind, and Strength by April Yamasaki

February - Disciplines of the Spirit by Howard Thurman

March - God Alone Is Enough by Claudia Mair Burney

April - Unsettling the Word: Biblical Experiments in Decolonization ed. by Steve Heinrichs

May - Raise Your Voice: Why We Stay Silent and How to Speak Up by Kathy Khang

June - Strength to Love by Martin Luther King Jr.

July - Hermanas: Deepening our Identity and Growing Our Influence by Natalia Kohn Rivera, Noemi Vega Quinones, and Kristy Garza Robinson

August - Silence and Beauty by Makoto Fujimura (Optional companion book: Silence by Shusako Endo)

September - A Sojourner's Truth: Choosing Freedom and Courage in a Divided World by Natasha Sistrunk Robinson

October - Does Jesus Really Love Me? A Gay Christian's Pilgrimage in Search of God in America by Jeff Chu

November - All the Colors We Will See: Reflections on Barriers, Brokenness, and Finding Our Way by Patrice Gopo

December - The Violence of Love by Oscar Romero
Last year, we discussed the books on Facebook. But given how many of us are conflicted about Facebook, I'll be moving the next year's conversations here to Substack for subscribers.
But let me know about the volume of books we're reading, too - I have a hunch that 12 books all with deep subject matter was a bit much for most people. Maybe 6 would be more manageable?
As a reminder, we typically focus on books written by BIPOC (black, indigenous, and/or people of colour) related to Christian spiritual formation. We'll take a look through your suggestions and choose from among them so feel free to "like" or reply to comments in order to let us know which ones are most requested. We're looking for books to help us be formed more into the image of Jesus for the sake of the world, so who would be a good guide for us?
Over to you: what book should we read together next year?
If you're not a paid subscriber, sign up now so you don't miss the kick-off in January. In addition to the Field Notes Book Club, you'll have access to the Advent series that just concluded and all of the archives and future posts.
(If you truly can't afford to subscribe, please just let me know. We'll look after you.)
---
And in case you missed it:
You can donate towards funding subscriptions for those who can't afford them - I've been giving away as many as ask. Or perhaps a subscription to Field Notes may be a wonderful 2020 gift to someone you know.
P.S. My latest book Miracles and Other Reasonable Things might be the companion you need for these final days of the year.