When I was your age, television was called books.
January Field Notes: Book Reviews, Podcasts, Kindle Deals, and more
Before we begin our regularly scheduled book chat, I wanted to take a minute to point you towards the Australia Red Cross who are on the ground, caring for evacuees devastated by the bushfires (click here to read about their work). There are larger conversations about climate change of course but for the immediate care needed, please donate here.
Australia, you are never far from our thoughts. We will keep sending you love, prayer, and money as you battle on.
---
Hello, my friends - it's our favourite distraction of the month: book time! As a reminder, January is one of the four months a year when everyone - paid and unpaid subscribers - all get Field Notes and it's open to share far and wide.
To all of our new subscribers, welcome!
But brace yourselves: I took December and November off from sharing book reviews because of all the other new content I was creating around Advent and so this is 3-Months Overload list as I catch you up - don't worry, next month will go back to normal numbers of books.
Have you made a reading challenge for yourself this year? In addition to my Field Notes Book Club picks, I always set a goal number of books for myself which is fun to track all year long. I'm also concurrently doing the Modern Mrs. Darcy reading challenge this year. A few of our FNBC picks would meet the criteria so you may be able to do both, too - it's a fun one.
My friend Jeff (who is an Enneagram 6) told me his favourite part of my book reviews is when I don't like books and say so. Well, there are a few of those this month so hope you're happy, Jeffy! But I also read a lot of truly excellent books, too. And so open up your library's online request page or jot down your favourites for a trip to the used bookstore because there is something for almost everyone here.
All right, let's get to the books!
---
My Favourite Read(s) of the Month
In the Shelter: Finding a Home in the World by Pádraig Ó Tuama - 5+ stars. I'm a latecomer to the Irish theologian and poet's work. I heard his interview with Krista Tippet for On Being which was GLORIOUS and immediately bought this book. But then I took my time with it. You know I'm a ridiculous fast reader and tend to consume books in one sitting but this one demanded time and space. I read it slowly and almost devotionally, underlining and dog-earing pages. This book weaves poetry, stories, and Celtic spirituality with everyday life and I found it incredibly beautiful, the kind of beauty that changes you and stays. I already want to reread it.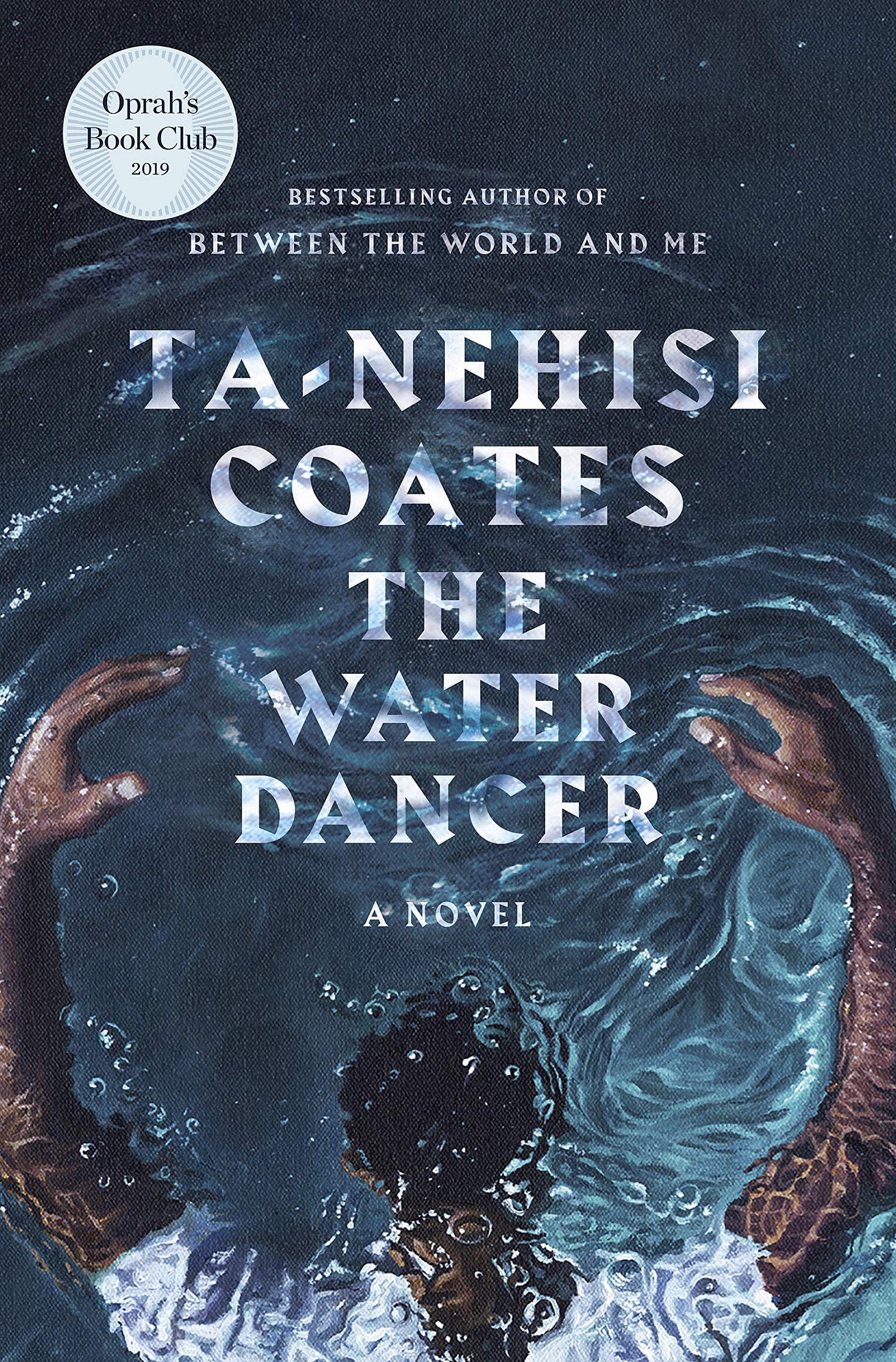 The Water Dancer by Ta-Nehisi Coates - 5+ stars. I cannot even properly articulate the experience of this book (because it is an immersive experience) but I will tell you this, I felt transported and transformed by the story and the prose. It's a spiritual experience and a full-dunk baptism of devastating truth at the same time. Hands down, this was the best book I read last year.
All the books I finished lately:
I'll Be Your Blue Sky by Marisa de los Santos - 5 stars. I read this before the other two Marisa de los Santos books you'll see below even though it's the third in the series. And I loved it. The writing is so crip, the story very compelling. Now that I've read the prequels, I want to go back and read it again with the lens of what I know about the peripheral characters now in place but still. A great story with secrets, twists, family drama. And it was hopeful and true, the wrap-up deeply satisfying. (P.S. I read these MdlS books because reading maven Anne Bogel told me to - literally. You'll find my conversation with her for her podcast What Should I Read Next below so scroll down for that.)
Belong to Me by Marisa de los Santos - 5 stars. Now one of my go-to fiction writers, this is a strong take on friendship (especially the art of making and keeping friends), grief, loss, family, and chosen family. Fantastic characters. This is the second book in the trilogy. Again: satisfying and even cathartic.
Love Walked In by Marisa de los Santos - 4 stars. I would have liked this more if I hadn't already read the first two which have a stronger and more complicated story but it was still very good.
The Little Women Cookbook: Tempting Recipes from the March Sisters and Their Friends and Family by Wini Moranville - 4 stars. You know how I love a good themed cookbook read. The illustrations are darling, the essays are clever, the quotes from the book are lovely, but I can't honestly say that I will ever make a single thing from it. Either way: a fun evening!
All the Colors We Will See: Reflections on Barriers, Brokenness, and Finding Our Way by Patrice Gopo - 5 stars. This was our November 2019 Book Club pick and I loved it. Patrice is SUCH a great writer and her turns of phrase are exquisite but powerful. These essays on identity, belonging, immigration, Scripture, and family are beautifully crafted and strong. So look forward to what she will write next!
The Violence of Love by Oscar Romero, translated and arranged by James R. Brockman - 3.5 stars. This was also a book club pick but I found myself frustrated by the haphazard chopped up way that it was presented. I find Oscar Romero very compelling and his work deeply significant but this was a hard read due to format, not content. The content was SO GOOD, it was a problem of organization and flow for me. Will be trying others of his work so that I can appreciate it properly.
House of Dreams: The Life of L.M. Montgomery by Liz Rosenberg - 4 stars. This was actually one of the better biographies of the beloved author I have read. It was written for YA audiences, I believe but it doesn't gloss over her mental illness at all so I found it honest. It places her within context, too. And the illustrations are charming.
The Giver of Stars by Jojo Moyes - 4.5 stars. This book might have been created in a lab for me: strong women, other women being empowered to rise up, historical fiction rooted in a real story, all centered on a LIBRARY, I mean come on! A fantastic weekend read under a quilt.
Unfollow: A Memoir of Loving and Leaving the Westboro Baptist Church by Megan Phelps-Roper - 4.5 stars. I found this book disturbing and compelling. It was hard to read in places but her awakening and subsequent deconstruction is like nothing I've read before. To come out from the "most hated church in America" with such grace, dignity, and thoughtfulness is truly a testimony. (If you haven't yet watched her compelling TED Talk, I think you'll see what I mean.)
The Nordic Baking Book by Magnus Nilsson - 4 stars. This book is ridiculous. I nearly put my back out lifting it. The print is tiny, it is super detailed, and I loved it because it's so inaccessible for mere home cooks. What is it about paging through beautiful recipes with gorgeous photography that is so satisfying? I will never make anything from it but I enjoyed the experience of looking at it!
Celebrate Your Body (and It's Changes Too!): The Ultimate Puberty Book for Girls by Sonya Renee Taylor - 4.5 stars. I've been on the look-out for body positive and inclusive books about puberty for girls that leans into informed consent at an age-appropriate level. This is a great candidate. It's written for the girls themselves and I will definitely be adding it to the library. (P.S. I also really appreciated her book for adults called The Body is Not An Apology - so powerful.)
My Ideal Bookshelf edited by Thessaly La Force, illustrated by Jane Mount - 3.5 stars. I liked the concept, the illustrations, and the essays but it felt like there were some big blind spots in terms of who was asked to participate and some of the writers felt cringey with self-importance. If I could only have one coffee table book about books, it wouldn't be this one but perhaps one by the same illustrator called Bibliophile - much more satisfying.
Becoming Us: Using the Enneagram to Creative Thriving Gospel-Centered Marriages by Beth and Jeff McCord - 2.5 stars. I wanted to like this book so much but it was a sad miss for me. The theological lens is clearly quite conservative and the content was much more heavy-handed than it needed to be. The view of marriage is exclusively hetero-normative and reads as complementarian-light. The Enneagram content itself is at an introductory level which makes sense given the audience but left me feeling like it wasn't enough there for those of us who have been doing that work for a while. It reads like conservative evangelical church marital counselling and not in a good way. To be honest, I was bummed because I quite like Beth's content on Instagram and even when I have heard her on podcasts, she has seemed more generous and less preachy and prescriptive than this book came across.
Euphoria by Lily King - 5 stars. Well, this won a ton of awards and now I know why. Couldn't put it down, the writing was so compelling, and the story was bonkers. If you read and enjoyed The Poisonwood Bible and Five Wives (two of my favourites) this is like the secular, sexy, suspenseful, brilliant anthropologist cousin to those books.
Wayward Son by Rainbow Rowell - 3 stars. That's it, I'm out. I like Rainbow Rowell's books (especially her adult fiction) but this YA one did not do it for me and I think I'm done with the Simon Snow books altogether - they just aren't for me.
Stay Sexy and Don't Get Murdered by Georgia Hardstack and Karen Gilgariff - 3 stars. My sister is a DEDICATED Murderino (there was a tip o' the hat to that fact in her part of the acknowledgements of my latest book. If you caught it, you must also be a massive fan of their popular podcast My Favorite Murder….which, after listening to one episode, made me literally pray in tongues late into the night, interceding for victims and families! I'm so not made for true crime!) and I read this because I love her. I think for fans, it is a perfect book and they can even read it in the hosts' voices. But for casual readers without the backstory and passion let alone those of us who are highly-sensitive, it fell a bit flat and was much heavier on confessional memoir and a lack of empathy than I expected. It is also staggeringly profane.
Hum If You Don't Know the Words by Bianca Marais - 2 stars. Told through two alternating South African perspectives, this book made me mad and I couldn't like it despite my best efforts. The central premise of the book of what one character does to another is so incredibly cruel and horrible that I couldn't even enjoy the story. Plus part of me has gotten rather suspicious anytime a white woman tries to write about the inner life and thoughts of oppressed black women. Knowing what we know now and knowing how many incredible writers of colour are writing in that space, it feels…not quite right. (I'm looking at you, The Help) But that particular character is the only sympathetic one, too so there is that. This was a miss for me.
The Atlas of Happiness: The Global Secrets of How to Be Happy by Helen Russell - 3.5 stars. A fun coffee table book or evening glance. I found it interesting without being useful or memorable. And it's beautifully made.
Prayers for Faithful Families by Traci Smith - 5 stars. As I said in my endorsement for this one, "There is a generation of parents who don't know how to pray with their children because the prayers of their own childhood carry too much baggage or were absent altogether. In this deceptively slim book, Traci Smith gives us the gift of rewriting prayers for families. Every prayer is beautiful, simple, true, and easy to memorize. I rejoice to think of a generation of children growing up with these prayers in their hearts and minds and souls - and I'm equally happy for the parents over and over again being reminded of the goodness and love of God as well."
The Uncommon Reader by Alan Bennett - 5 stars. Another recommendation by Anne Bogel, this was a lovely quick novella about the Queen becoming a bookworm. It was a delight and more subversive than I expected, too.
Loving Well in a Broken World: Discover the Hidden Power of Empathy by Lauren Casper - 5 stars. With our world feeling more divided than ever, I truly believe this book holds one of the keys for changing hearts, minds, and stories: empathy. I found this to be a humble but challenging book with great possibility to heal us. It's not skirting around the big issues either.
We Were the Lucky Ones by Georgia Hunter - 5 stars. This was a great story. If it wasn't based on a true story, you wouldn't be able to find it plausible but here we are. It's a triumphant book of family and love and hope.
7 Days of Christmas: A Season of Generosity by Jen Hatmaker - 5 stars. If you loved Jen's bestselling book 7: An Experimental Mutiny Against Excess, this is the companion to it as a Christmas gift book. Tuck a few into your cart for next year perhaps because it's a great gift to wake us up out of the traditional excesses of Christmas towards not just restraint but generosity. I love my girl.
A Pilgrimage to Eternity: From Canterbury to Rome in Search of Faith by Timothy Egan - 3 stars. This was fine. It falls in the vein of the pilgrimage novel by men of a certain age and those are fine too. It wasn't offensive or anything but it didn't live up to the title, didn't say anything particularly new or revelatory, and never quite knew what it wanted to be. And - cardinal sin to me - it took itself too seriously.
Three Women by Lisa Taddeo - 1 star. WHAT did I just read. I need to scrub my mind's eye with sanitizer. This was on so many "best of" lists as being a 'truth-teller' about women's sexuality and so I picked it up at the library and again, WHAT.
(I just realized that as I'm typing these words, I am literally physically cringing at such a level and making SUCH A FACE that I wish I could take a picture to show you as my review. This is the closest approximation of me while reading it:
I am no prude but I found this utterly depressing. The stories told unrepresentative of most women's experiences (also to be said: three white women do not a sample size make), devoid of redemption, unsatisfying, and highly overrated. Plus one of the women's stories was truly upsetting and I felt the way it was handled was not! great! Heralded as a great book about women's sexuality and that is a big old NOPE NOPE HELL NOPE. If you want to read more about women's sexuality, I would rather recommend Come As You Are.
Burnout: The Secret to Unlocking the Stress Cycle by Emily Nagoski, PhD and Amelia Nagoski, DMA - Also part of my 2019 Best Books List, this was the best book I've ever read on women's health and wellness. It is deeply practical, shame-free, empowering without rah-rah-go-girl nonsense, AND acknowledges the game is rigged against women because of the patriarchy (ugh). P.S. They are careful to be inclusive and honest about all women, not just the white wealthy ones with children too including those of us with chronic illness, women without children, women of colour, intersections of all, etc. And Emily is the author of Come As You Are which I recommended just above.
Because Internet: Understanding the New Rules of Language by Gretchen McCulloch - 4 stars. This was an interesting read and much more entertaining that a book about linguistics is usually. If you wonder about the origin of emojis, memes, and how online communication is changing how we all communicate, then this is a great read. She describes language as "open source" which I loved.
WHEW. That was a lot.
Now, your turn - what did you finish this month that you loved? What is your favourite book of the month? Your take on any of the books I read?
---
A Few Kindle Deals
*Prices were accurate when I prepared but may have changed. These are only the deals I've either read myself or know a bit about and so feel pretty good recommending to you.
You are a Badass: How to Stop Doubting Your Greatness and Start Living an Awesome Life by Jen Sincero is just $2.99
Furiously Happy: A Funny Book About Horrible Things by Jenny Lawson is just $2.99
Falling Upward: A Spirituality for the Two-Halves of Life by Fr. Richard Rohr is just $2.99
Year of Yes: How to Dance It Out, Stand in the Sun, and Be Your Own Person by Shonda Rhimes is $1.99
The House of the Spirits by Isabel Allende is $1.99
Stretched Too Thin: How Working Moms Can Lose the Guilt, Work Smarter, and Thrive by Jessica N. Turner is just 99 cents
---
Listen and Watch
Here are my latest appearances on podcasts:
What Should I Read Next? with Anne Bogel Episode 211
That Sounds Fun! 12 Days of Christmas with Annie F. Downs
Theology Curator with Kurt Willems Episode 81
The Alli Worthington Podcast Episode 80
And don't forget you can always go back and listen to the many other podcasts I've appeared on by clicking here to listen.
---
Did you catch the announcement of our Field Notes book club picks for 2020? I just requested our February book from the library and am looking forward to diving in. As a reminder, Field Notes Book Club is focused on reading books that help to form us more into the image of Jesus for the sake of the world written by exclusively BIPOC (black, indigenous, and/or people of colour) authors.
Currently we're reading The Book of Joy: Lasting Happiness in a Changing World by Archbishop Desmond Tutu and His Holiness the Dalai Lama with Douglas Carlton Abrams. Discussion portal will be emailed to paid subscribers at the beginning of February. See you there!
---
Okay! That's a lot of words about words.
I'll see you back here next week with an essay and the following week with The Good Things this month and we'll do another round of Wisdom From the Field soon too. Did you catch our last community-sourced answers? It was a good one.
Dog-eared pages and worn out library cards,
S.
---
ICYMI